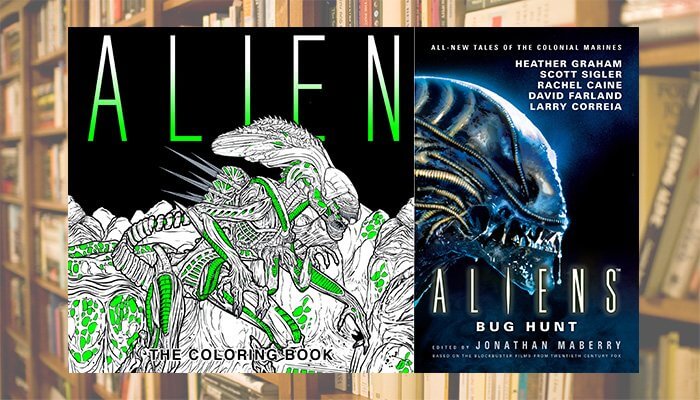 Alien: The Coloring Books and Aliens: Bug Hunt are musts for franchise fans
From the awesome folks over at Titan Books comes two new Xenomorph-filled books just in time for Alien Day! While Alien: The Coloring Book and Aliens: Bug Hunt are two very different books, both run the gamet through the Ridley Scott/H.R. Giger-created horror universe in new and exciting ways.
Alien: The Coloring Book is, as you guess, a coloring book that's pages are filled with black and white illustrations from the first four films in the growing series. There may be a few abstract (but still awesome) renderings as well, but they're all waiting for you to fill them in with graphic, eye-popping color.
Aliens: Bug Hunt is a brand new collection of short stories (18 in total) featuring the iconic movie monster in a number of new and movie-inspired scenarios. And again, both are available just in time for Alien Day, so pick them up and get your Xenomorph fix!
Read a short review and take a peek inside the pages of Titan Books' newest Alien/Aliens books after the jump.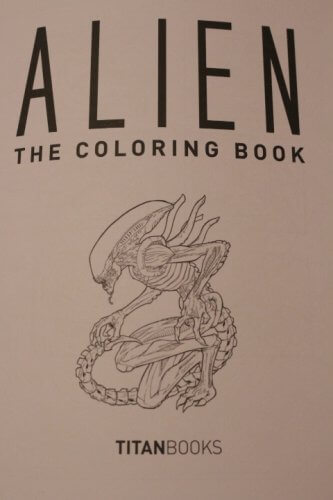 BUY "ALIEN: THE COLORING BOOK" NOW!
Alien: The Coloring Book is just what you'd expect from an officially licensed Xenomorph-themed coloring book–page after page of intricate outlines depicting those Xeno baddies in a variety of different iterations. At first, I couldn't imagine using more than a handful of desaturated colors throughout the entire book, but the neon green on the cover suggests going a little crazy. Acid for blood. The perfect killing machine. All that good stuff. There's a new craze for adult coloring books and coloring as a sort of zen relaxation/creative unwinding that's grown more popular over the last few years. I say, whether you're going to pick up an adult coloring book, are looking forward to the upcoming Alien: Covenant movie, or are introducing the franchise to your kids (shame on you, this stuff's intense!), bypass the mandala coloring books and go for the Aliens instead.
For the most part, the coloring book takes artistic liberty with iconic scenes and memorable set pieces from the first four films (Alien, Aliens, Alien 3, Alien: Resurrection), but there are a handful of different pieces that either collage together elements to create a bigger tapestry or create unique visions using recognizable characters. For instance, the few pictures below show Jones the cat and a chestburster in the vents (which never explicitly happened on screen) as well as what looks like an older Newt and Jones casually strolling through a room full of eggs and facehuggers. Odd, but fun to color I'm sure.
Also, while it looks like a fair share of the coloring book's images are drawn in a similar style, there's definitely more than a few different styles, textures, and interpretations on display. Check out these four different Ripleys (there are more in the book):
Again, Alien: The Coloring Book is a get-what-you-expect kind of book, but that doesn't mean it's not 80 pages of awesome. You can sink hours upon hours into this book, and given the detail and intricacy of some of the pages you're bound to come out the other end with some fantastic-looking Alien-themed works of art. Just check out these sweet coloring book illustrations! And I'm barley scratching the surface. If you're a fan of the franchise, the coloring book is a must.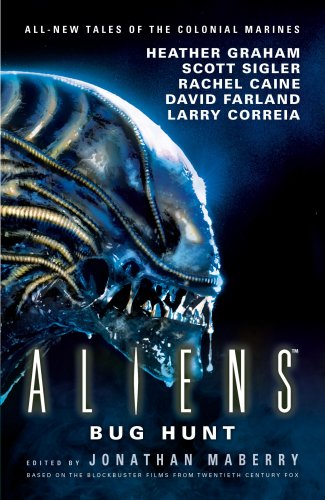 Funny story: I grew up in a small, one-main-street town with very little offered to do for growing boys, and I wasn't above venturing to the local library to see what I could find for entertainment. Tucked away in a corner with a few dozen other science fiction books I found a handful of Alien novels by Steve Perry and his daughter S.D. Perry. Earth Hive, Nightmare Asylum, and The Female War form a thoroughly enjoyable Alien book trilogy that adapts the original Dark Horse Comics (which, also a funny story, were supposed to be a continuation of the Newt/Hicks story before director David Fincher killed them off in Alien 3. The adapted books named the two main characters Billie and Wilks instead. The pair even run into Ripley in The Female War!) In fact, I'm partially convinced Ridley Scott is going to adapt material from the Earth Hive trilogy into his upcoming movies, but I won't be able to confirm that until I've seen the films.
The point of this little anecdote is to say there exists beyond the big screen some amazing extended universe novels and mixed media, and Aliens: Bug Hunt from Titan Books attempts to add to the canon. We get not one, not two, hell, not even ten but eighteen short stories from a handful of different authors. Names like Dan Abnett (2000 AD), David Farland (Runelords), Yvonne Navarro(Aliens: Music of the Spears), Brian Keene (The Rising), Tim Lebbon (Alien: Out of the Shadows), and Jonathan Maberry (Deadlands, Mars One) contribute stories with titles ranging from "Reaper" and "Dark Mother" to "Reclamation" and "Deep Black." Even more than the Alien coloring book, fans of the Xenomorph universe owe it to themselves to add a copy of this book to your shelf. I'd love a 20-episode television series telling self-contained Alien stories in all their dark, deep space detail, and if I can't have that then Aliens: Bug Hunt is the next best thing. Outside of comic books (which are plentiful and span a spectrum of crossovers with iconic characters like the Terminator and the Predator), this book is probably the only collection of so many separate Xenomorph/Colonial Marine stories. Editor and contributor Jonathan Maberry even teases encounters with even weirder space bugs:
There are all kinds of bug hunts here. Against Xenomorphs, and against critters that don't even have a name yet. Scary things that lurk in the dark. We went on the premise that it's a large, weird, dangerous universe filled with creatures who aren't warm and fuzzy E.T.s and who don't necessarily want to share. And who are looking for a hot lunch.
It'll take you a little time to get through the entire collection (352 pages in total, not counting author autobiographies), but the stories are consistently around twenty pages and are easily digestible in one sitting. I haven't gotten through them all, but you'll definitely see more than a few familiar faces pop up.
Set during the events of the fist four Aliens films, sending the Marines to alien worlds, to derelict space settlements, and into the nests of the universe's most dangerous monsters, these adventures are guaranteed to send the blood racing–one way or another…

The stories are all different. They range from pur adrenaline-fueled action to introspective human dramas to the deeply weird…

These are grand tales of heroism, cowardice, struggle, betrayal, remorse, and the cost in human terms of taking up arms against unknown foes. Some of these stories fit easily into the existing canon of the Alien/Aliens franchise. Other stories won't necessarily be considered canonical, though–they're further out on the edge, suggesting that it's a bigger, darker, stranger and more dangerous universe than any of us think.
Like the coloring book, Bug Hunt is loosely connected to the film universe but still allows room for creative liberties. I'm sold, and I'm more than happy to add this book to my collection. Right now it's sitting nicely next to my copy of The Complete Aliens Omnibus: Volume One and Aliens: The Archive.