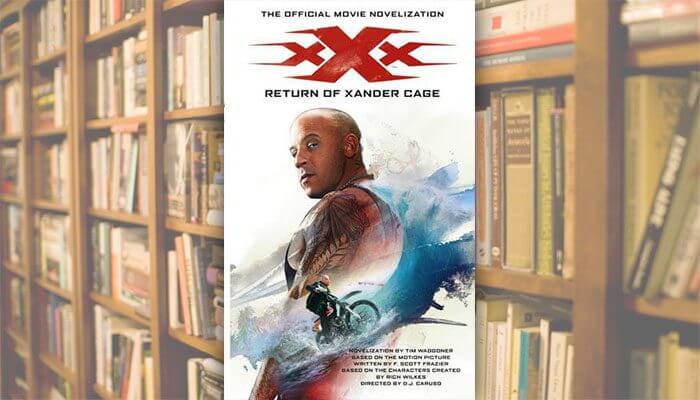 Why does The Return of Xander Cage – The Official Movie Novelization exist?
If I'm being blunt, there's no need for a novelization of a xXx movie, or any Vin Diesel high-octane blockbuster. There really isn't. Why read about Diesel doing the Dew and skiing through a jungle in slow motion when it's available on-screen in all its sensory overload absurdity. That said, personally, I picked up xXx: The Return of Xander Cage – The Official Movie Novelization for one reason and one reason only. How does an author attempt, let alone pull off, the prose version of a xXx adventure without sounding like a fourteen-year-old who is himself jacked up on Mountain Dew? Well, Titan Books and Tim Waggoner gave it a shot, and I'm happy to say I'm as satisfied as I am disappointed with the end result.
Read a short review of xXx: The Return of Xander Cage – The Official Movie Novelization from Titan Books after the jump.
This is going to be short and sweet and to the point, because I'm not sure how best to summarize a reading of xXx: The Return of Xander Cage – The Official Movie Novelization without being somewhat condescending, and that's the last thing I want to do in a review. This book shouldn't exist, yet it does and it's outrageous on every level. The Return of Xander Cage was one of the few movies I've managed to watch before reading through the novel (it's usually the other way around), so I knew exactly what I was getting myself into when I picked up the book. From page one, I read through looking specifically for over-the-top prose and snippets of dialogue that were so bad they were good and so good they deserved to be heard on the big screen. Again, I was not disappointed.
From our first introduction to Xander himself as he "clung to a massive antennae array. He was free-climbing-no rope, no net, no second changes. Just the way he liked it." I knew the author wasn't going to reign it in, and the next few pages confirmed it. "Xander didn't need a speedometer to know how fast he was going. He knew speed the same way other people knew their own reflection." I was hooked. I was baffled. I was in for a ridiculous ride, and I rolled my eyes and grinned a stupid grin more times than I care to admit as I read through The Return of Xander Cage.
A few favorites I couldn't resist calling out:
"He was down on the dance floor, tearing it up in a performance that was part acrobatics, part martial arts, and all attitude."
"Xander turned to see a woman coming out of the cockpit and hurrying toward them. She was a pretty brunette with wide-lens glasses that made her look something like a sexy owl."
"The water bike soared over the stairs, and just for the hell of it, Xander did a 360-degree spin in the air before landing in the midst of battling Russians and pirates."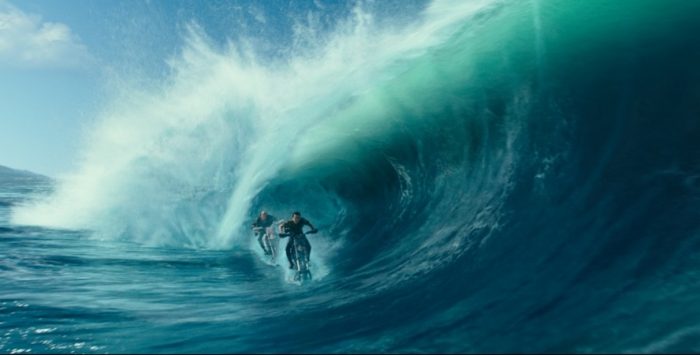 That last one tells you everything you need to know about the book, the franchise, and the tone of xXx in general, and once you're aware of that, reading through The Return of Xander Cage is really a personal choice. Is this kind of crazy up your alley? Again, it's hard for me to recommend the book simply because seeing something like a "360-degree spin in the air before landing in the midst of battling Russians and pirates" is so much better (relative term) when it's Vin Diesel accompanied by explosions and slow motion on the big screen. Reading about Diesel and Donnie Yen's characters racing on water bikes across the ocean, the reflection on the water glistening as one shoots a flare down the tube of a wave, just isn't the same as taking in the ridiculousness of the situation in theaters or at home with your surround sound blaring. I hate to say it, because I love reading a good book, and normally the novel is worlds above the on-screen adaptation, but if you're going to endure/enjoy xXx: The Return of Xander Cage you best do it in movie form.
One redeeming quality I personally thought was interesting was the extra information the novel provides, which isn't usually that strange. Most official movie novelizations embellish a bit and take leeway with the content at times, but there's a moment in the story that plays differently in the novelization and upon reading it I had an "aha" moment. It has to do with Samuel L. Jackson's character Gibbons and his encounter with a seemingly random assailant. In the movie **SPOILERS** this random bad guy comes barging through the door as Gibbons is attempting to recruit a new xXx agent, but the new recruit stops the attacker with his special kicking skills (not joking). The scene ends, and the viewer assumes it's one way to show the audience how talented the recruit is. In the book, it's explained (although very briefly) that the attacker was in fact a government agent, with Gibbons thinking, "Agent Dunlevy was going to have one hell of a headache when he woke up." Interesting, right? I thought so. Even if it had no influence on the story itself, it was strange to have it explained in the book.
While I'm sure author Tim Waggoner had a blast draining energy drinks and imagining how best to capture the action of a 360 flip on a motorcycle in words, there's really no need to buy this book as either a reader or a fan of the xXx franchise. Instead, grab some beer and put on the movie to laugh, love, and loathe when it's available. Sorry, Titan Books, a swing and a miss!