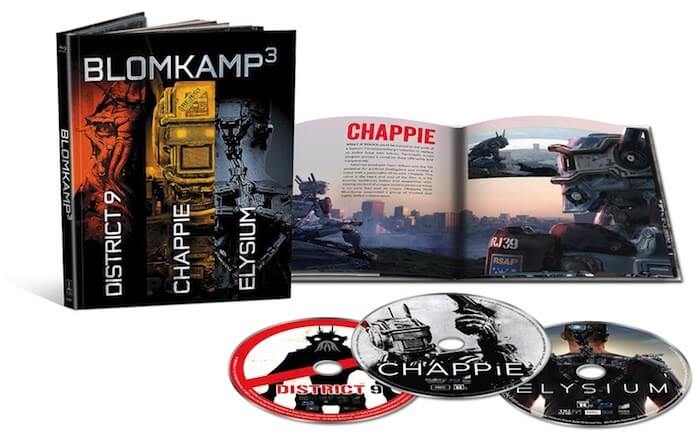 Get Neill Blomkamp's trifecta (Chappie, Elysium, District 9) at a steal!
There's no denying that Neill Blomkamp's freshman film District 9 was an achievement for the director, the genre, and the movie's star Sharlto Copley. It was a CGI eye-opener as well as a thematic heavyweight, and Blomkamp hasn't quite been able to re-reach the heights of his first feature film. That said, both Elysium and Chappie, his two follow-ups, are entertaining and enjoyable on their own level, and fans of the man love each of his three movies for what they are. In my humble blogger-behind-a-keyboard opinion, Elysium struggled to find footing and fell a bit flat, and Chappie was as much a Die Antwoord picture as it was an R-rated Short Circuit, but I still find something to love about both.
Fortunately for film fans everywhere, today and today only you can get your hands on all three films (District 9, Elysium, and Chappie) for a steal. Amazon has made the 3-disc Blu-ray Blomkamp³ Limited Edition Collection the site's Deal of the Day (click the link to buy) for under $20! That's over 60% off! With Chappie still on the new arrivals shelf and priced higher, you'd be crazy not to jump on the opportunity today while you have the chance. Plus, the set comes with a complementary 64-page digibook. I'm adding the trio to my cart right now, and I suggest you do the same before the price jumps back up.
You can either hop over to Amazon and buy that way, or you can click the link above or the image below. If you choose the link or the image, you help the site out a little with operating costs. Choose wisely. Just kidding, but you should definitely add this triple feature to your collection today!