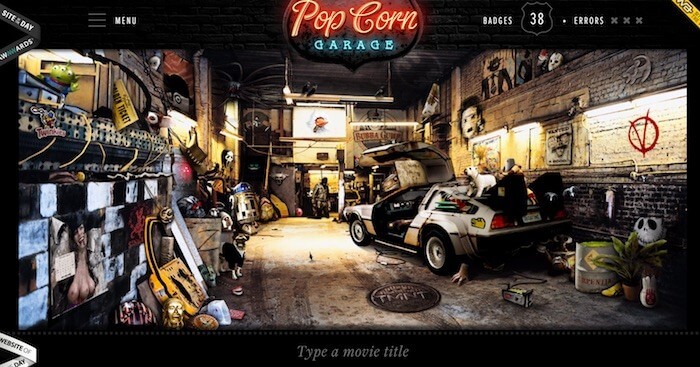 PopCorn Garage will put your movie trivia knowledge to the test
I stumbled across PopCorn Garage (PLAY THE GAME HERE) a little while ago, and now I honestly can't remember what brought me there to begin with. Regardless, the game/hidden object picture/digital movie garage is a fun way to kill some time, test your knowledge of cinema iconography, and try to beat your score when you inevitably fail. I was surprised at just how hard it was to spot everything, and I didn't make it much further than the 38 badges found (out of 66) as you can see above. There are a lot of obvious images and logos littering the PopCorn Garage, but after a while it gets tough.
After hitting the standouts, I ended up scanning the entire garage from end to end, and I still wasn't able to find everything. It's pretty addicting once you get into it, and PopCorn Garage has everything from Pulp Fiction to Howard the Duck, Toy Story, and Taxi Driver. Spot anything obscure that jumps out at you? You only get three wrong guesses before the game boots you out of the garage and makes you start over completely, and I learned that a few icons are pretty fickle, so save and come back if you're not sure.
Give it a try, and let me know how well you did. The object of the game is to click on something you recognize and then type in the name of the movie it coincides with. You don't have to be 100% correct when guessing the title (for instance, "Something About Mary" will suffice for "There's Something About Mary"), but remember you only get three guesses. That said, you are able to save as often as you like, so there's that. Hop on over to PopCorn Garage and see how many movie badges you can collect!