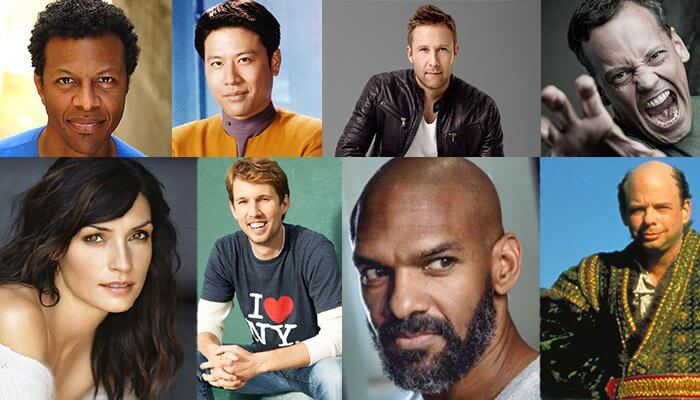 Forget Fillion, check out these celebrity guests from Denver Comic Con 2017
Let's face it, the biggest draws to any convention are the celebrity guest appearances, and who shows up can even determine whether a fan attends or not any given year. Denver Comic Con and the folks of Pop Culture Classroom have always tried to fill their celebrity guest roster with familiar faces, exciting industry innovators, and A-list entertainers. Even when big names cancel last minute, surprise announcements often appease attendees who've sworn off the convention after their celebrity of choice pulled the plug, so I respect DCC for always bringing their A game.
Denver Comic Con 2017 saw a few cancellations and late guest announcements just like any other year, adjustments were made, and cosplayers and celebrity guests alike seemed to have a great time. Arguably, this year's biggest attractions were Nathan Fillion (Firefly, Castle), Weird Al, Catherine Tate (The Office, Doctor Who), and those mentioned below, but I think everyone was surprised when John Cusack seemingly came out of nowhere as a last-minute addition.
This year was my first covering the convention as media, so no matter how ambitious my itinerary was I knew I wouldn't be able to see all the DCC celebrity guests on my list. Add in expected line time (which can be hours), and trying to catch more than one or two of the biggest names at the convention was near impossible (I missed Fillion, Weird Al, the Stranger Things kids, and the Weasley twins to name a few). I juggled panel slots, vendor and artist spotlights, and cosplay photography and had to weigh my opportunity options more than a few times, but in the end I was able to get up close and semi-personal with a handful of fantastic film and television folks.
Read my recalled-from-memory rundown of panels featuring Garrett Wang, Khary Payton, Dee Bradley Baker, Phil LaMarr, Famke Janssen, Jon Heder, Michael Rossenbaum, and Wallace Shawn after the jump.
Art of the Voice
(Dee Bradley Baker, Khary Payton, Phil LaMarr)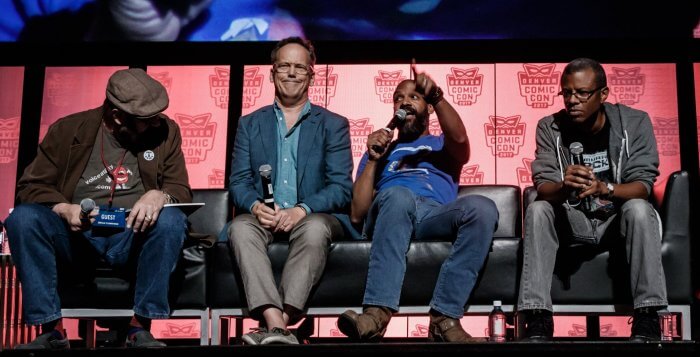 The first panel I caught on opening day was the Art of the Voice ensemble that brought together voice acting favorites Phil LaMarr (MadTV, Futurama), Khary Payton (Teen Titans, Teen Titans Go!), and Dee Bradley Baker (American Dad, Adventure Time). These guys make a living being silly, strange, and downright weird, so it was no surprise that they seemed right at home during a very relaxed panel focused on how to get paid being silly, strange, and downright weird. When Payton splayed himself out and slid over the back of the couch before settling down next to LaMarr as they were both being introduced, I knew these guys were here to have a good time. Fans were treated to fifty minutes of funny back and forth, good-natured stereotypical accents, and indecipherable alien noises.
I'll be the first to admit that I wasn't very familiar with the extensive voice work these three combined have on their resume. Dee Bradley Baker was an unfamiliar name to me even though I'd heard his noises in a number of things, and if you showed me a picture of Khary Payton's face I'd only be able to place him in The Walking Dead, but I grew up watching Phil LaMarr in MadTV and listening to his spicy Jamaican accent as Hermes in Futurama. That said, some fine journalistic sleuthing (Google) revealed that Baker has been part of tons of enjoyable shows, and while I was sitting in my seat during the panel I couldn't believe I hadn't placed Payton's voice as Cyborg in Teen Titans. My fan faux pas was made up for by actual fans in the audience, and it was awesome to see and hear so many ask their questions and connect with the voice actors who brought to life favorite characters.
I won't dig into the panel details much, because you can watch the DCC 2017 Art of the Voice panel in its entirety on the Denver Comic Con YouTube channel, but I wanted to share a few highlights.
Phil LaMarr views Samurai Jack as one long story, and he enjoyed being able to come back and continue telling it.
Khary Payton confirmed that Young Justice will continue in season 3 next year.
Dee Bradley Baker made some funny noises (I joke, but Baker really seems to enjoy his job, and he was quick to infuse strange sounds and different pitches into the conversation whenever possible).
The trio were subjected to an improv accent challenge in which stereotypical accents were thrown at them from the audience, the actor read a line in that accent, a new accent was tossed into the mix, and the actor had to blend the new accent with the old and read the line again.
Payton said it's not just about who you know but how you know them, and he stressed that having someone vouch for you or recommend you for a job or to an agent is a big responsibility.
Baker and Payton enthusiastically endorsed Baker's I Want to be a Voice Actor! website for those looking to get started in the industry.
The panel ended with the three actors reading lines of gibberish while adding inflection to create a believable back and forth.
Bonus: I can't speak to how the other two actors engaged offstage, but it was heartwarming to see Payton connecting with and hugging fans in front of his autograph table as I was waiting in line to shake Wallace Shawn's hand and ask him to sign my copy of The Princess Bride (read about Shawn's panel below).
---
Famke Janssen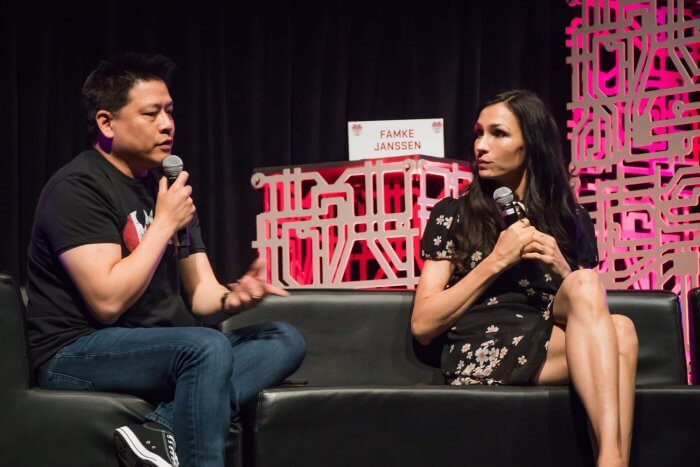 I came into the Famke Janssen panel a little late, but I was able to sneak in right up front as she was discussing her Dutch roots and how we may be able to pick out her accent in her first on-screen performance Fathers and Sons. The X-Men/Bond star kept things low key for most of her panel, sharing insights into her career as it began, talking up co-stars from various films, and playing tag team with panel moderator Garrett Wang (Star Trek: Voyager) as they discussed ups and downs of movie and TV work. Both Wang and Janssen had roles in different revitalizations of the Star Trek television show, and both have had awkward casting call almosts and fan run-in experiences.
Of the panels I was fortunate enough to attend, Janssen's was the most subdued and toned down. Maybe it was the elevation, maybe it was the absence of fellow X-Men actors to bounce the conversation around to, but the energy in the room was pretty settled. I'm sure she's attended her fair share of conventions throughout the years, and talking about the same characters for the same reasons has got to be exhausting. That said, even though there were a handful of X-Men questions and comments, there were also fans in the audience who loved and had great questions about Janssen's roles in Nip/Tuck, Hemlock Grove, Star Trek, GoldenEye, The Blacklist, and How to Get Away with Murder.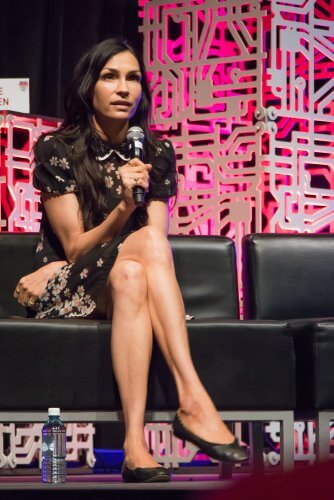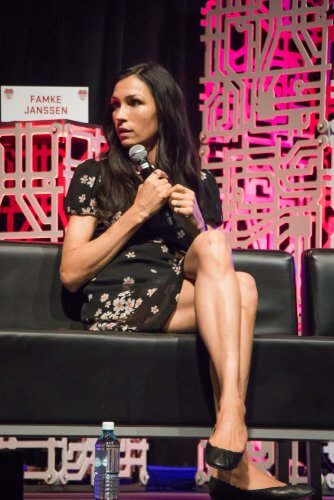 Here are a few takeaways from Janssen's panel:
Says she enjoys her chocolate. She enjoys it so much that she's worked her way up to 100% cacao and won't have it any other way.
She wasn't told her character in Nip/Tuck (spoilers!!) was transgender until just before the reveal, which is when series creator Ryan Murphy sprung the unplanned twist on her.
She considers Pierce Brosnan to be her Bond (understandably), but she grew up watching the classic Connery/Moore-era movies with her father.
She confirmed Dougray Scott (Desperate Housewives, Hemlock Grove) was all but cast as Wolverine before Hugh Jackman stepped in.
As to be expected, Sophie Turner reached out before X-Men: Apocalypse to ask about Janssen's take on the role.
She doesn't see herself picking up the mantle of Jean Grey again any time soon, but she's excited to see the Dark Phoenix saga explored more thoroughly in the character's own movie.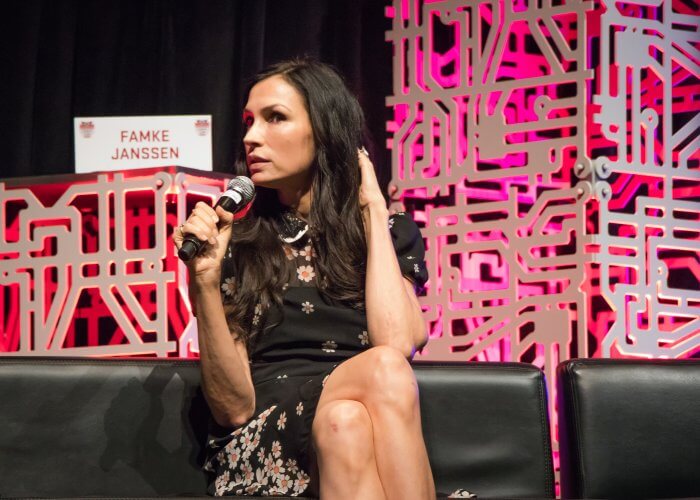 ---
Super-Fun Team-Up!
(Michael Rossenbaum & Jon Heder)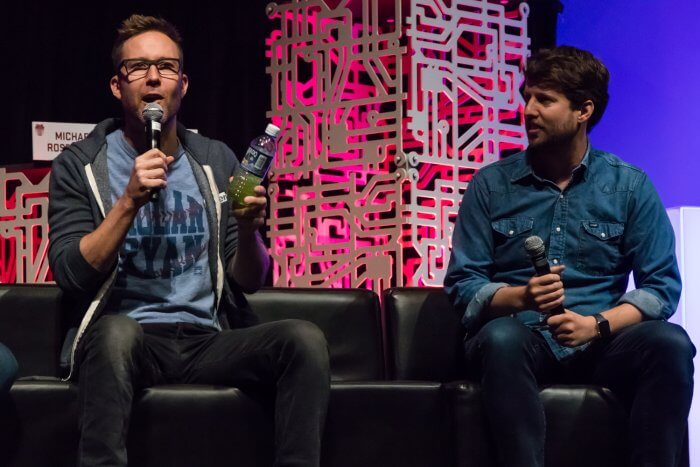 Look at these two douchebags. Kidding, of course, but that's the attitude Jon Heder and Michael Rossenbaum shared when they bounced onto the couch in the Night Lynx auditorium at this year's Denver Comic Con. Rossenbaum parted the stage curtains carrying multiple beverages and complaining about the altitude, and Heder followed behind criticizing Rossenbaum's armful of beverages. These dudes are bros, plain and simple, which is something I wouldn't have guessed had I not seen them shooting the shit this year. When did this happen? Have they worked together? What's the connection here? Who slept on whose couch and how did that bring them closer together? The full Super-Fun Team-Up! Jon Heder and Michael Rossenbaum Denver Comic Con panel is an enjoyable watch, so I'll spare you all the intimate details.
I'll be honest, I was so caught up in the chemistry and nonchalant attitude Heder and Rossenbaum shared, that in my head the panel was fifty minutes of the two riffing off each other, repeating Napoleon Dynamite lines, and telling fart jokes. There were the fan questions from the audience, and Garrett Wang seemed to be having a good time keeping track of which guest had the most questions asked of them, but overall it was the Jon and Michael Show. Rossenbaum jumped off the stage for a hug when a girl said she was at the convention just for him, Heder was hesitant but did a little dance when I yelled "prove it" after he said his Napoleon Dynamite dance was improvised and freestyled, and a few Colorado pot jokes were made. I'm still not quite sure why this panel existed or why these two were together for a panel if not for the friendship and convenience. A "Hey, you're going to Denver Comic Con? I'm going to Denver Comic Con! Let's do a panel together." sort of thing, because Heder had his own panel and Rossenbaum joined a handful of his Justice League co-stars for their own panel. I'm not complaining, because the Super-Fun Team-Up! panel was the one I laughed at most throughout, but it's still kind of surprising these two are best buds.
Like I mentioned, details are hazy and there's a video you can watch of the entire show, but a few highlights I can remember from the Jon Heder/Michael Rossenbaum panel include:
Rossenbaum knows the Napoleon Dynamite quotes like a die-hard fan
Heder's mannerisms for Napoleon were taken from a real person (who was almost cast himself, but he was too strange) who drank his Gatorade just like you see in the movie.
Both have had their share of awkward fan encounters. Rossenbaum once had a woman look him up and down and give him a "I know you" saucy nod and remark but refused an autograph, and he's been approached in the restroom on more than one occasion. Heder had a fan dressed as Uncle Rico present a steak and tell him to take out his frustration, so Heder threw the steak at him.
Both guests shared their favorite film lines and those they get most from fans, and by the end of the panel the audience had gotten its fair share of laughs and even a bit of lunacy. Rossenbaum snapped some selfies on stage, Wang joined the party, and the trio danced down the timer as the final seconds of the panel ticked away.
---
Wallace Shawn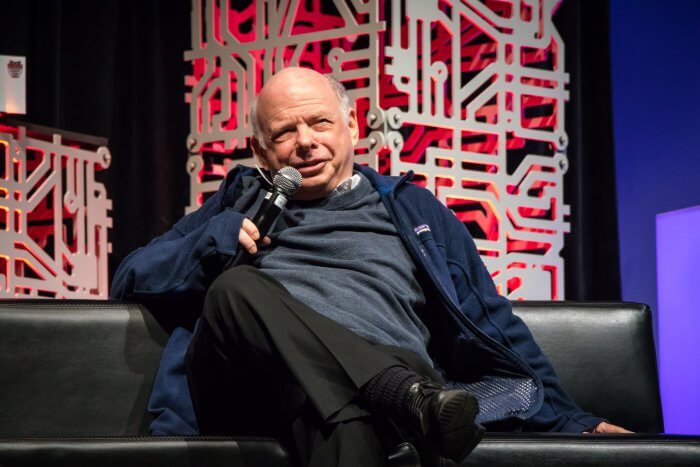 If I learned one thing about Wallace Shawn during my time at Denver Comic Con (prepare to have your dreams shattered), it's that the man simply doesn't enjoy the fan outpouring for The Princess Bride anymore. A woman even politely walked through the line and asked that we not ask Shawn to quote any lines from the movie as I was waiting for his autograph the day before this panel. It's understandable. The movie turns thirty this year, so that's thirty years of fans asking for him to give them an "inconceivable" on command. And, unfortunately, the cult popularity of The Princess Bride has overshadowed pretty much everything Shawn has done as an on-screen actor before or since (with occasional nods to My Dinner with Andre). You may also know him as the voice of Rex in the Toy Story movies, but he made it known in this panel that he doesn't enjoy the experience of voice acting as much as he does bouncing ideas and emotions off of another actor in person. So, The Princess Bride took center stage in his life, and it still very clearly does if fan reactions at conventions like Denver's are any indication. Just look at me. I've written an entire paragraph about the man and it's focused mostly on The Princess Bride. It's Wallace Shawn's plague, I tell you.
But that aside, Mr. Shawn was in good spirits and was as quick-witted as ever accompanied on stage by Garrett Wang (who moderated for a handful of different panels over the weekend). He's getting older, that's no surprise, but the guy's still got spunk and a sense of humor. He and Wang talked about their shared experience as regulars on different Star Trek television shows, the change in climate in "the industry" over the years, and Shawn was comfortable casually self-categorizing himself as a socialist. Overall, the conversation was very friendly and relaxed, even if the tone changed subtly from light-hearted and comical to heartfelt and almost depressing on more than a few occasions. You can watch the full Wallace Shawn Denver Comic Con panel over on the DCC YouTube page.
Dammit, why is it so hard to steer away from The Princess Bride when talking about this man? I knew he wasn't keen on discussing the movie, so I'd even prepped before stepping into his autograph line the day before and let him know the first movie I'd seen him in was actually Just Like Dad. That said, no matter how hard Shawn or Wang tried to play around The Princess Bride, questions were inevitable, and it was a relief to hear a few anecdotes shared in earnest without feeling like we'd angered the kind-hearted guy. That would have been…inconceivable.
Highlights from the Wallace Shawn panel included:
Shawn has never received residuals for The Princess Bride (contract stipulations).
He feels disconnected from the character and the story when he's doing voice work.
Shawn thought highly of Andre the Giant. He shared a story saying Andre loved geography and mapmaking and wanted to travel the world, so he decided professional wrestling was the best way to do that. That's how he got into wrestling.
During the filming of the cliff climbing/hanging scene in The Princess Bride, Andre offered Shawn brandy from a flask to calm his nerves. Shawn refused, but he thought it reflected Andre's character.