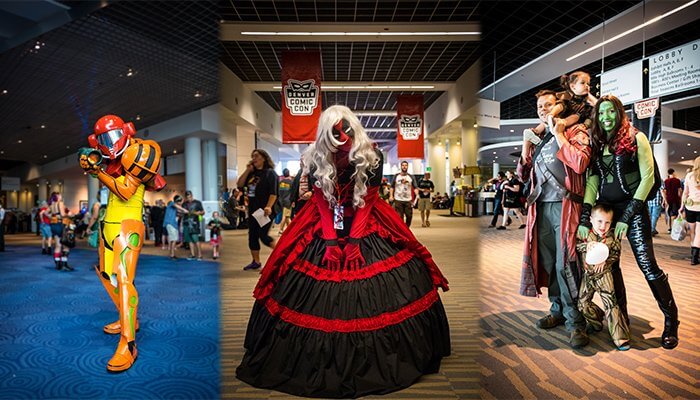 Denver Comic Con 2017 Cosplay Kicked Ass
Denver Comic Con 2017 (#DCC2017) came and went last weekend, and with it hordes of fans fit and fashioned costumes from all corners of the pop culture spectrum. For a convention that's overcome its growing pains, and hurdled last-minute celebrity guest cancellations year after year, DCC 2017 was a rousing success. It had been five years since I'd walked the halls of the Colorado Convention Center in downtown Denver for the annual event, and 2017 was the first time I was fortunate enough to attend as media, so memories of comic con were hazy going in at best. Camera in hand, heavy bag slung over my shoulder (which I ditched after Day 1), I hit the floor last Friday determined to shoot awesome cosplayers, establish my bearings for the long weekend ahead, and make the most of Denver Comic con as both media and maniac. I'm convinced that's what every single one of you crazy cosplay enthusiasts and comic con attendees were (especially after watching the entry line shuffle through each day)–maniacs of the highest order! I put together a fun DCC 2017 time lapse video as proof.
Whether you attended this year's Denver Comic Con and are looking for photos of yourself or weren't able to attend and want to vicariously live the experience through kick ass cosplay photos, you'll enjoy the cosplay photography spotlight gallery shot by Midroad Movie Review during the 2017 convention! Check it out after the jump.
Use the arrows below (hover over image) to browse through the 112 cosplay photos from this year's Denver Comic Con!
I'm a bit bias, and I learned a lot about the enthusiasm of the cosplayer as well as the professionalism expected of the photographer at this type of event, so I love every photo I took this year. Each photo came with a bashful smile or a confident pose, and I've enjoyed getting notifications through social media channels from people who spotted their costume in a photo tagged #DCC2017 and absolutely loved seeing themselves looking awesome. What I'm trying to say is, I'd have shared every photo I took if I thought it would bring you the same kind of memories, but instead I plucked out the 112 photos above for your viewing pleasure. There are some keepers in there for sure! Here are a handful of my personal favorites: