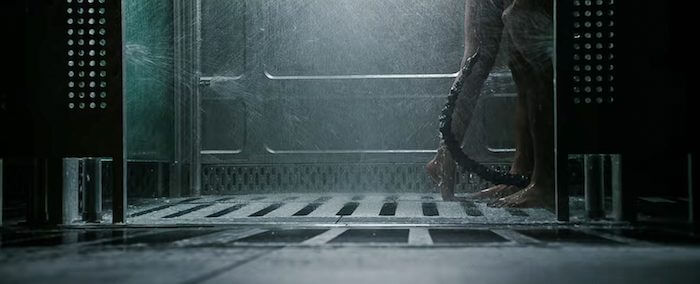 Alien: Covenant trailer teases what looks like a soft reboot for Ridley Scott
Ridley Scott is back in R-rated sci-fi territory, and the first trailer for his highly anticipated sequel/prequel movie Alien: Covenant has finally arrived. As an early morning Christmas present even. Not much is revealed regarding plot outside of space truckers get into xenomorph trouble (which some are already calling a soft reboot of the material), but there's definitely an edge to this first trailer that's felt missing from the franchise – the trailer is red band for language and presumably blood. That said, fans and filmgoers are already decrying Alien Covenant's first trailer as giving away too much. If you want to stay completely in the dark as to who gets killed and which characters get infected, sadly, you may want to steer clear of even this first trailer. You've been warned.
If you're hungry for anything Alien and have been waiting to see what Ridley Scott and crew have been cooking up, give the first trailer for Alien: Covenant a watch after the jump. You'll also find the first poster for the movie as well as a plot synopsis.
Billy Crudup's captain character looks like he's going to take that facehugger to the…face…right? And whoever was in that shower just had their head exploded or died a similarly gruesome death. Again, there may be some snippets given away within the trailer that fans would have rather waited to see, but there's bound to be a few surprises waiting for us. I, for one, am excited to see how James Franco and Danny McBride (seen in the trailer donning an appropriately out of place blue collar space cowboy hat) fair. People will die, no doubt, but will McBride eat Franco as he has in the past? Will Franco pull a Winona Ryder and reveal he's an android? Will McBride get to utter a Kenny Powers line or two as xenomorphs rip him to pieces? Only time will tell.
For now, Alien: Covenant aims to bring back fans who fell overboard when Prometheus rocked the boat a bit too hard as well as evolve the franchise's narrative and, hopefully, upright the wobbly xenomorph ship that Scott helped create. A hard R-rated, xenomorph-fueled, double Michael Fassbender as David romp could be just what we need.
In case you're unfamiliar with the Alien franchise, didn't see Prometheus, or watched this new trailer and find yourself curious, here's a plot synopsis for Alien: Covenant to fill in some details:
Set as the second chapter in a prequel trilogy that began with Prometheus, Alien: Covenant connects directly to Ridley Scott's 1979 seminal work of science fiction. It begins with the colony ship Covenant, bound for a remote planet on the far side of the galaxy. There, the crew discovers what they think is an uncharted paradise, but is actually a dark, dangerous world — whose sole inhabitant is the "synthetic" David, survivor of the doomed Prometheus expedition.
Alien: Covenant stars Michael Fassbender, Katherine Waterston, Danny McBride, Billy Crudup, James Franco, Demián Bichir, Carmen Ejogo, Callie Hernandez, Jussie Smollett, Noomi Rapace, and Guy Pearce. The movie opens in theaters on May 19, 2017.