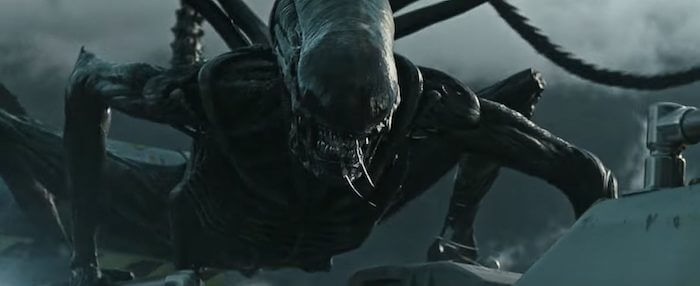 Xenomorphs are officially back in new Alien: Covenant trailer
A brand new trailer for Ridley Scott's upcoming Alien: Covenant hit yesterday, and fans of the franchise are breathing a collective sigh of relief while simultaneously letting out giddy gasps in anticipation. If Logan is the Wolverine movie fans have been waiting for, Alien: Covenant appears to be the Scott-directed xenomorph follow-up Alien die-hards have wanted since he introduced the acid-for-blood bugs way back in 1979. Personally, I'm loving everything I've seen so far, but this newest trailer gets a bit…spoilery/silly/too much…there in the end. Maybe it's just me.
Also premiering recently, a short film titled "Prologue: Last Supper" sets a more comfortable tone while introducing James Franco's captain and letting us see a few more faces from the crew. It's a nice introduction to the humans we'll see on screen before they're all brutally killed, so consider it a cherry on top of the new trailer.
Give the brand new trailer for Alien: Covenant and the short prologue film a watch after the jump.

Here's the prologue film that popped up a little while ago. I'm not sure if all of this footage is from the movie itself or if this is a one-off cut, but there's at least a little bit here that's in the new trailer (below). Regardless, the prologue short film "Prologue: Last Supper" is worth the watch if you're eating up anything Alien: Covenant that surfaces. Check it out:
And here's a brand new trailer that just debuted. If you're hoping to steer clear of as many spoilers or intense action bits from the movie, you may want to give this one a pass. Consider yourself warned.
Again, that last bit with the xenomorph/neomorph (that's what we're calling them, right?) hanging onto the shuttle, headbutting the glass, and mugging for the camera is just a bit much for my taste. Meaning, it almost came across as campy in this trailer, so here's hoping it's not as blocky and odd in context. That said, the new trailer is great, and I'm definitely catching this loud, front, and center when it hits theaters.
In case you're still in the dark, here's a plot synopsis for Alien: Covenant to fill in some details:
Set as the second chapter in a prequel trilogy that began with Prometheus, Alien: Covenant connects directly to Ridley Scott's 1979 seminal work of science fiction. It begins with the colony ship Covenant, bound for a remote planet on the far side of the galaxy. There, the crew discovers what they think is an uncharted paradise, but is actually a dark, dangerous world — whose sole inhabitant is the "synthetic" David, survivor of the doomed Prometheus expedition.
Alien: Covenant stars Michael Fassbender, Katherine Waterston, Danny McBride, Billy Crudup, James Franco, Demián Bichir, Carmen Ejogo, Callie Hernandez, Jussie Smollett, Noomi Rapace, and Guy Pearce. The movie opens in theaters on May 19, 2017.