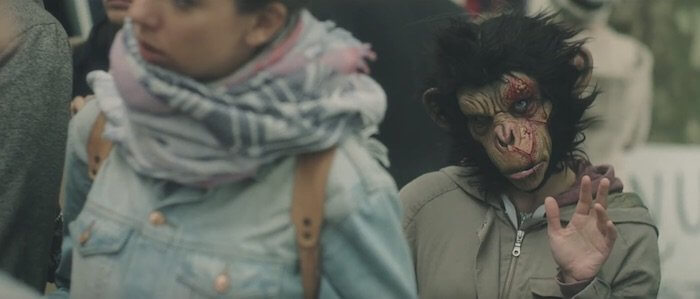 Anti Matter looks like a low key gem of a movie
Stumbled across the trailer for the movie Anti Matter recently, and the movie looks interesting enough to sink some time into (you'll get it once you watch the trailer). Cerebral mind benders are tough to sell in a the span of a trailer, so don't get your hopes up too high, but Anti Matter dropped in the UK last year (with a US release scheduled for this fall) and has been compared to cult favorites like Pi, Primer, and Memento. That's some deep water to be wading around in as a debut feature film, and comparisons like that are bound to turn a few heads. The monkey mask got my attention, and the high praise kept me around for the length of the trailer. Here's hoping Anti Matter finds a respectable audience when it hits US theaters in September.
Watch the trailer, read a plot synopsis, and check out a few movie posters for Anti Matter after the jump.
The movie seems to have found an early audience that loves what it does. As mentioned, Anti Matter was released in the UK in July 2017, serving as the debut film for The Casting Iron Picture Co., and it's the first full-length movie from director Keir Burrows. Personally, I think there's a fine line between movies like Memento and Primer and thought-provoking B-movie territory (Synchronicity, Triangle), and the difference usually reveals itself in story arc and performance. There's not enough shown in the Anti Matter trailer to reel me in completely, but I'm intrigued by Alice in Wonderland-type rabbit hole dive movies and it's been a while since I've seen a brain scrambler that really did the trick (the one-two punch of Coherence and  The One I Love was pretty effective, but that was a few years ago).
Here's some plot synopsis information for Anti Matter pulled from the Cast Iron Pictures Co. website:
Anti Matter is a sci-fi noir take on the Alice in Wonderland tale. Ana, an Oxford PhD student, finds herself unable to build new memories following an experiment to generate and travel through a wormhole. The story follows her increasingly desperate efforts to understand what happened, and to find out who – or what – is behind the rising horror in her life.
I was hoping to spot a familiar face or two, but I don't recognize anyone. Anti Matter stars Yaiza Figueroa, Philippa Carson, Tom Barber-Duffy, James Farrar, and Harrie Hayes. The movie is currently available on iTunes, Amazon, Blinkbox, and even in stores in the UK, but it also makes its way to US theaters on September 8, 2017.