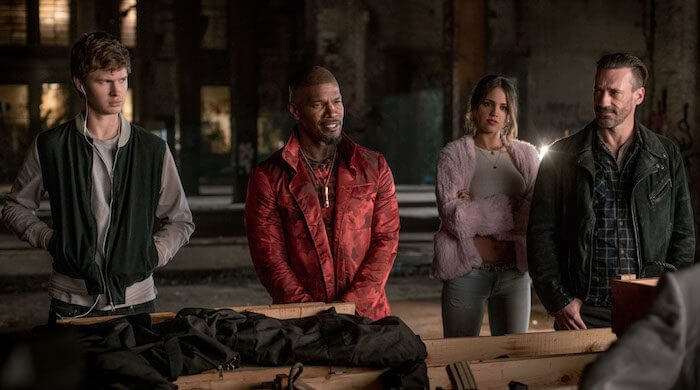 Edgar Wright's Baby Driver gets two very different trailers
The first trailers (official U.S. and international) for Edgar Wright's musically infused action comedy Baby Driver have debuted, and they're a mixed bag. Meaning, both trailers do their job of previewing the movie, and it looks like fun, but the pair establish such disparate tones that you'd think there was two different cuts of Baby Driver hitting theaters in August. That said, if you weren't aware this was an Edgar Wright affair, there's nothing outstanding that drips with his style enough to immediately be recognizable. That's both intriguing and disconcerting, especially when you hear a beat or two pulled straight from paint-by-numbers "good guy in a bad spot" type movies. Wright has yet to let film fans down though, so here's hoping Baby Driver sits nicely atop his director's resume.
Watch both trailers for Baby Driver, read a short plot synopsis, and check out the first poster for the movie after the jump.
Here's the official U.S. trailer for Baby Driver that popped up early this yesterday:
Shortly after the US trailer debuted, an international trailer made the rounds and established a much more musically infused tone. Check it out below.
Viewers seem to prefer the feel and Edgar Wright-appropriate pacing of the international trailer, but personally I think both are enjoyable in their own way. I loved the hits and action-inspired musical beats in the international trailer (which is a compliment to the international editor), but I found myself more invested in the story/characters after watching the U.S. trailer. If anything, these two previews are an excellent example of just how influential editing can be when establishing tone and direction. It's a shame, because people seem to be focusing more on the differences in the trailers rather than the movie itself, and the movie looks like it could be a really good time.
That said, the U.S. trailer dropped a few red flag bombs that kind of surprised me. "One last job and I'm out" has been said so many times in a movie it's almost groan-inducing at this point, and there were a few more pieces to the puzzle that felt very cliche given the man behind the camera. I know the appeal of Baby Driver right now is the use of the soundtrack (which we don't get too much of in either trailer), but here's hoping there's more to the movie's story than a paint-by-numbers crime caper/escape.
If you're as in the dark about the behind-the-scenes as I am, here's an official plot synopsis for Baby Driver to fill in a few cracks:
A talented, young getaway driver relies on the beat of his personal soundtrack to be the best in the game. But after being coerced into working for a crime boss, he must face the music when a doomed heist threatens his life, love and freedom.
Baby Driver stars Ansel Elgort, Jamie Foxx, Kevin Spacey, Lily James, Jon Hamm, Jon Bernthal, and Flea. The movie hits theaters later this summer on August 11, 2017.