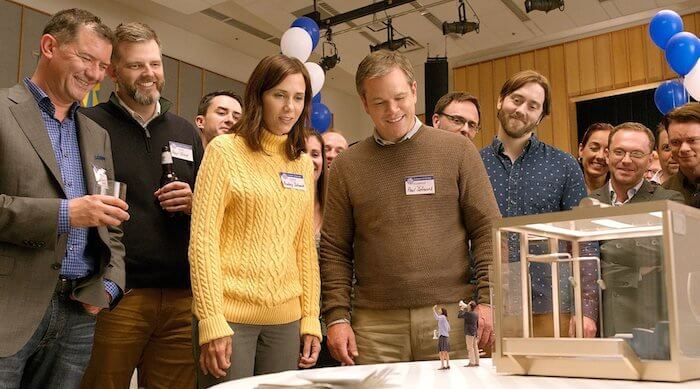 Downsizing trailer shrinks Damon and Wiig down to a manageable size
The first trailer for Downsizing dropped mid-month to preview the upcoming Honey I Shrunk the Adults-style overpopulation and responsible budgeting dramedy from director Alexander Payne (Sideways, Nebraska). Imagine a world in which $52,000 is worth $12 million because you're only a few inches tall and your resource demands are only a fraction of the cost. Sure, shrinking yourself and your financial responsibilities may be exciting and adventurous at first, but I bet the seams start to come apart when the gravity of what you've done sets in. That's the premise of Payne's Downsizing, an odd movie that sees a tiny Matt Damon scraped off a hospital table by a nurse with a spatula, and I'm curious to say the least.
Watch the first trailer for Downsizing and read a short plot synopsis for the movie after the jump.
After the success of Marvel's Ant-Man in 2015, I thought we'd see one or two more quick shrink-the-actors cash grabs, and last I heard Kon-Tiki director Joachim Rønning was on board to bring Michael Cricthon's Micro to the big screen, but it looks like Payne is the unexpected candidate to drop big names into shrunken environments again. All good sci-fi uses the science fiction backdrop as just that, a backdrop for human drama and emotional arcs, so there's no doubt the director is doing the same here. Drop people into an unwelcome/strange scenario, give them some freedom in that new environment, then let their problems surface. It's a formula Payne seems pretty familiar with, but the sci-fi/shrinking element is an interesting addition.
In case the trailer wasn't enough to give you the gist of what the movie's about, here's a short plot synopsis for Downsizing:
When scientists discover how to shrink humans to five inches tall as a solution to over-population, Paul and his wife Audrey decide to abandon their stressed lives in order to get small and move to a new downsized community — a choice that triggers life-changing adventures.
Downsizing stars Matt Damon, Kristen Wiig, Christoph Waltz, Jason Sudeikis, Hong Chau, Maribeth Monroe, Udo Kier, Laura Dern, Neil Patrick Harris, and James Van Der Beek. The movie hits theaters on December 22, 2017.