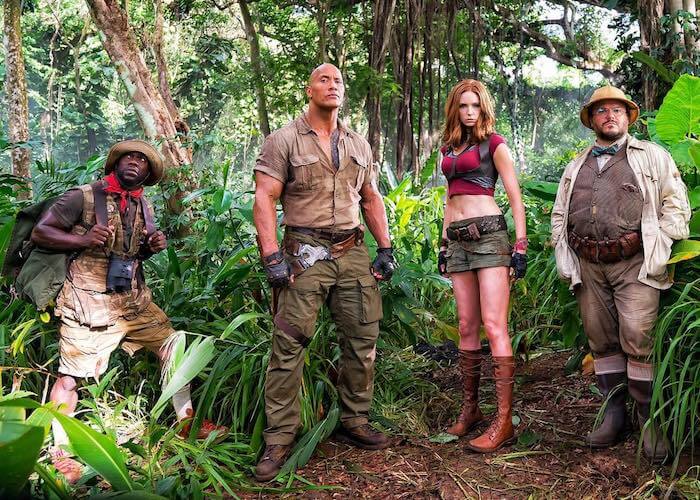 Jumanji: Welcome to the Jungle trailer takes a Tron turn
The first trailer for Jumanji: Welcome to the Jungle, the upcoming remake/reboot no one really wants but we're all curious about, was released a while ago but is worth checking out if you haven't seen it yet. I'm late to the party, and I remember cocking an eyebrow and filing this trailer away in June when I first gave it a watch. The remake/reboot/sequel(?) sees the iconic board game turned into a Nintendo-like video game and updated for a new generation. Instead of wooden pieces and real-world wildlife, it looks like this time around we're being immersed in a virtual reality-type, body transfer…thing. Check out the trailer and you'll see what's going on.
Watch the first trailer for 2017's Jumanji, read a plot synopsis, and glimpse a poster for the movie after the jump.
Teenagers getting sucked into a virtual world ala Tron, gender swapping, fish out of water, and explosions? This isn't the Jumanji you remember. Honestly, it's been long enough that younger audiences probably don't remember/haven't seen the Robin Williams original, so Jumanji: Welcome to the Jungle will most likely find its audience based on star appeal and intriguing concept alone. Sure, I'll buy my ticket to see how it stacks up against a movie I grew up enjoying, but I'm not holding Jumanji: Welcome to the Jungle to any "this better not make Robin Williams turn over in his grave" standards. This is an action comedy, plain and simple, and one of the popular four-quadrant formulas films follow today–recognizable comedians (Black and Hart) paired with a box office action draw (Johnson) and some beat-em-up sex appeal (Gillan). There's bound to be some racy-but-still-tame pokes at the gender swapping, a fart joke or two, and what looks like CG-heavy action sequences. If you're expecting Oscar- or nostalgia-worthy territory, you may want to look elsewhere. That said, the movie could be fun.
Here's a plot synopsis for Jumanji: Welcome to the Jungle:
In a brand new Jumanji adventure, the tables are turned as four teenagers are sucked into Jumanji's world – pitted against rhinos, black mambas and an endless variety of jungle traps and puzzles. To survive, they'll play as characters from the game: meek Spencer becomes a brave explorer; hulky jock Fridge becomes a tiny genius; It-girl Bethany becomes a bookworm professor; and un-athletic Martha becomes an amazonian warrior. To beat the game and return to the real world with their lives, they'll have to start seeing things in an entirely different way.
Jumanji: Welcome to the Jungle was directed by Jake Kasdan (Bad Teacher, Sex Tape) and stars Karen Gillan, Dwayne Johnson, Kevin Hart, Jack Black, Rhys Darby, Madison Iseman, Alex Wolff, Morgan Turner, Ser'Darius Blain, Nick Jonas, and Bobby Cannavale. The movie hits theaters on December 20, 2017.