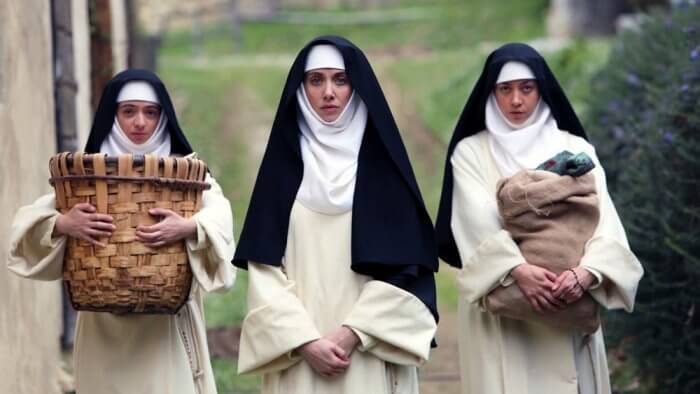 The Little Hours trailers feature foul-mouthed naughty nuns
The Little Hours looks like a chance for some funny women to get a little unhinged and raunchy while playing dress-up as nuns. Sound like fun? It could be, but the movie could also be a bit too much for some people. If the first red band trailer is any indication, these nuns aren't holding back, and we're in for screaming, swearing, sexing, and general nunnery shenanigans. The cast is a blend of comedy favorites, and it's fun to see these performers together in what may easily be dismissed as a raunchy comedy period piece akin to Your Highness. I'm optimistic, but this kind of humor is hit or miss most times. The fine line between hilariously absurd and offensive for the sake of being offensive is a tough one to walk. That said, there's talent here who have been successfully swimming in that strange pool for quite some time, and it's been working for them. Naughty nuns seems like a logical stepping stone.
Watch a few trailers for The Little Hours, read a plot synopsis, and check out a handful of posters for the movie after the jump.
Here's the first trailer that popped up a while ago:
Here's the red band trailer that followed:
And here's a newer trailer that popped up last month:
John C. Reilly and Kate Micucci stand out as two oddballs who have fun doing oddball things, Dr. Steve Brule and Garfunkel and Oates, respectively, so they're shoe-ins for this kind of comedy. Audrey Plaza and Alison Brie seem to be having fun, and both have been known to dabble in subversive, hinging-on-dirty character archetypes. Dave Franco is usually solid whether he's playing it straight or being purposefully weird. Once again, I'm optimistic. Early reviews have been mixed, spread across that fine line I talked about, but it's clear the Catholic League considers the movie "pure trash." Some people might consider that an endorsement.
Here's a plot synopsis for The Little Hours:
Medieval nuns Alessandra, Fernanda, and Ginevra lead a simple life in their convent. Their days are spent chafing at monastic routine, spying on one another, and berating the estate's day laborer. After a particularly vicious insult session drives the peasant away, Father Tommasso brings on new hired hand Massetto, a virile young servant forced into hiding by his angry lord. Introduced to the sisters as a deaf-mute to discourage temptation, Massetto struggles to maintain his cover as the repressed nunnery erupts in a whirlwind of pansexual horniness, substance abuse, and wicked revelry.
Just for kicks, here's a video that was making the rounds the other day of Aubrey Plaza enjoying some herbal medicine with two "nuns" from Sisters of the Valley:
The Little Hours stars Alison Brie, Kate Micucci, Aubrey Plaza, Dave Franco, John C. Reilly, Molly Shannon, Fred Armisen, Nick Offerman, and Paul Reiser. The movie is in theaters starting next week on June 30, 2017.