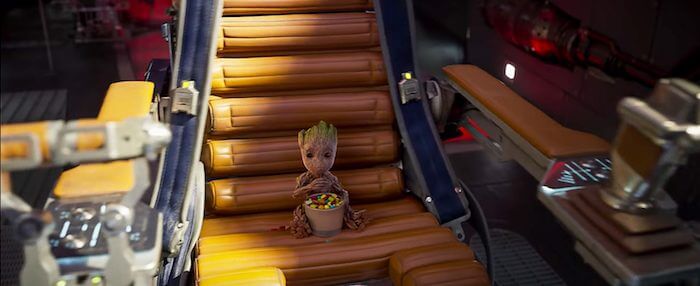 Baby Groot is super cute in new Guardians of the Galaxy Vol. 2 trailer
I think it's safe to say that Baby Groot will officially steal the show come May when Guardians of the Galaxy Vol. 2 hits theaters. That said, every member of the team stands out in their own way, and it looks like we'll be seeing a familiar face or two officially join the ranks this time around (looking at you Nebula and Yondu). Plus, a handful of new players are on screen for the first time (Pom Klementieff's Mantis, Kurt Russell's Ego), and we're bound to see more of them as the Guardians of the Galaxy cross paths with The Avengers in the near future. Until then, get hyped and crack a smile, because the brand new trailer for Vol. 2 is here and kicks ass.
Watch Star-Lord and crew do their thing in the new trailer and two new posters for Guardians of the Galaxy Vol. 2 after the jump.
Director James Gunn has always had a fun flare about his movies, but he seems to have really hit his stride with Guardians of the Galaxy and is having a blast. There are so many different tones and character moments in the trailer (and in this world in particular), but somehow they all seem to hit perfectly. That "Hi!" from Gamora when Baby Groot gives here a wave? Dave Bautista's Drax doing just about anything? Nebula's little smirk there in the end? It's all tonally perfect, and there's very little chance Vol. 2 won't exceed fan expectations and prove to be a great sequel/segue into the larger MCU for the Guardians. What do you think?
We'll most likely get another full-length trailer as a "final" preview before May, and plenty of TV spots/scene snippets, but I've had enough to sell me on the movie. If you're not quite sold, here's the official plot synopsis for Guardians of the Galaxy Vol. 2:
Set to the backdrop of 'Awesome Mixtape #2,' Marvel's Guardians of the Galaxy Vol. 2 continues the team's adventures as they traverse the outer reaches of the cosmos. The Guardians must fight to keep their newfound family together as they unravel the mysteries of Peter Quill's true parentage. Old foes become new allies and fan-favorite characters from the classic comics will come to our heroes' aid as the Marvel cinematic universe continues to expand.
Guardians of the Galaxy Vol. 2 stars Chris Pratt, Zoe Saldana, Dave Bautista, Michael Rooker, Karen Gillan, Kurt Russell, Sylvester Stallone, Elizabeth Debicki, Pom Klementieff, Nathan Fillion, Glenn Close, Sean Gunn, Tommy Flanagan, and the voices of Bradley Cooper and Vin Diesel. The movie hits theaters on May 5, 2017.
This new cassette poster popped up a week or so ago, and the ensemble/super colorful one debuted with the new trailer today. Check them out!