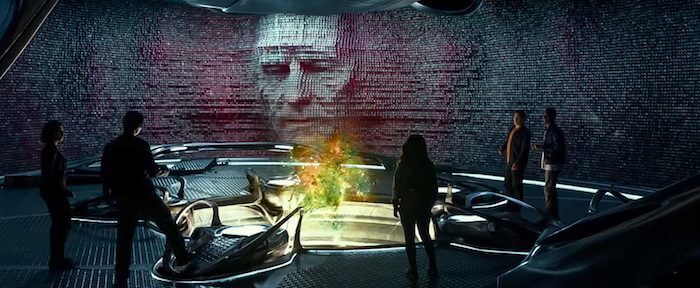 Second Power Rangers trailer finally says it's morphin' time
A brand new trailer for Saban's upcoming Power Rangers movie reboot just hit, and it showcases more of the action, morphin', and big robot fighting we were expecting to see. The first trailer for Power Rangers was fairly barebones and lacking those Ranger staples, but have no fear. They're all there in force it seems. While the movie looks to be more serious/less campy than the Mighty Morphin Power Rangers movie from the mid-90s, there are still some cut-and-copy elements that I'm not sold on just yet. Plus, as much as I love the guy, I just can't hear anything but Bryan Cranston in his voicing of Zordon, the Rangers mentor/leader, and it's distracting. See for yourself.
Watch the second action-packed Power Rangers trailer and read a plot synopsis for the movie after the jump.
What do you think? Was it all you'd hoped? Shaking your head at how a silly kid's show can still be canon for a major blockbuster? You're not alone, regardless of your opinion, and we'll be able to see just how the movie unfolds come March.
So, what don't I like about the movie so far? For one, it still comes off as a Chronicle-type origin story with teens finding something mystical/extraterrestrial underground and then developing powers. If you said out loud, "Hey, that looks like Chronicle" after seeing the first half of the trailer, it's a fair assessment. Also, it looks like Rita Repulsa (played by Elizabeth Banks) will unleash a hoard of expendable monsters on our Rangers, and there have been countless movies with the same copy-and-paste-type foes that are just there to get beaten up by the heroes (Avengers 1 & 2 come to mind immediately, but there are many, many more). Fortunately, I don't see a blue sky beam anywhere, so Power Rangers has that going for it. And Bill Hader's Alpha 5 will most likely be worth a laugh or two, and I really want to hear him drop the iconic "Aye yai yai yai yai yai yai." So, here we are. A new trailer and a very clear direction. Let's hope for fans of the franchise the movie is worth the watch.
Here's the official plot synopsis for Power Rangers:
Saban's Power Rangers follows five ordinary high school kids who must become extraordinary when they learn that their small town of Angel Grove – and the world – is on the verge of being obliterated by an alien threat. Chosen by destiny, our heroes quickly discover that they are the only ones who can save the planet. But to do so they will have to overcome their real-life issues and band together as the Power Rangers before it is too late.
Power Rangers stars Ludi Lin, Naomi Scott, RJ Cyler, Becky G, Dacre Montgomery, David Denman, Elizabeth Banks, Bill Hader, and Bryan Cranston. and March 24, 2017.