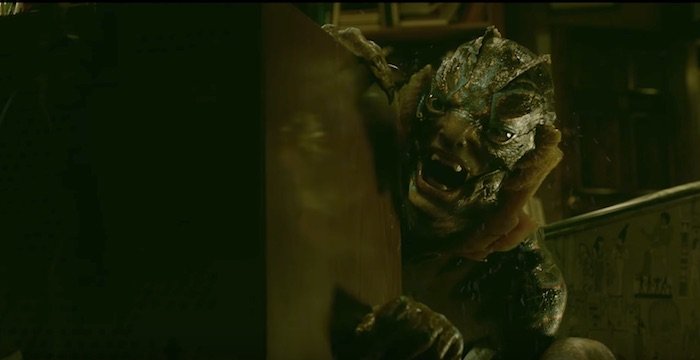 Guillermo del Toro's The Shape of Water trailers are full of wonder and weird
The Shape of Water is Guillermo del Toro's upcoming thriller/fantasy/fairytale, and if the trailers are any indication we can expect del Toro's iconic stamp of surreal innocence and naive danger. A new red band trailer just debuted, which is red band for language for the most part, but the film's R rating makes me optimistic that the director will continue to dig into the shadows in a way that only he manages to pull off. Del Toro always seems to be climbing his own Mountain of Madness toward more mainstream success (Blade, Hellboy, Pacific Rim), but it's like he'll drop something crazy and unique and then slide back down the mountain for a while. The Shape of Water looks great, but I don't see it catapulting him back up to the peak where I think he'd like to be in order to bring some of his more outrageous Lovecraft ideas to life.
Watch both the first full-length and the new red band trailers for The Shape of Water after the jump.
Here's the first trailer for The Shape of Water, which was first released in mid-July:
And here's the new red band trailer for good measure:
Funny enough, I heard about The Shape of Water before I actually knew what The Shape of Water was. I happen to follow artist James Jean on social media, and he shared a work-in-progress look at the poster/image commissioned for the movie before the first trailer debuted. Check out the poster (which only just dropped) below! I don't know much about the movie of del Toro's vision outside of the two trailers and the James Jean connection, so it's great to hear early positive buzz coming out of film festivals.
Here's the official plot synopsis for The Shape of Water:
From master story teller, Guillermo del Toro, comes THE SHAPE OF WATER – an other-worldly fairy tale, set against the backdrop of Cold War era America circa 1962. In the hidden high-security government laboratory where she works, lonely Elisa is trapped in a life of isolation. Elisa's life is changed forever when she and co-worker Zelda discover a secret classified experiment.
The Shape of Water stars Sally Hawkins, Michael Shannon, Michael Stuhlbarg, Octavia Spencer, Richard Jenkins, and Doug Jones doing his thing as the creature only listed as The Asset right now. The movie swims into theaters on December 8, 2017.