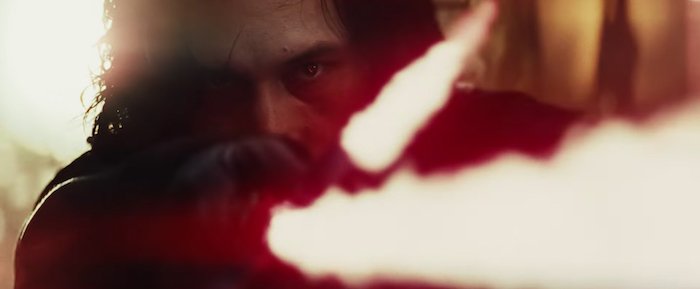 Star Wars: The Last Jedi teaser trailer is thin but ominous
The long-awaited and highly anticipated first trailer for Star Wars: The Last Jedi is here! Director Rian Johnson (Brick, The Brothers Bloom, Looper) steps in to helm the ninth movie in the exploding franchise (technically Episode 8 as part of George Lucas's originally planned 9-film epic), and it's exciting to see how Johnson's theatrical style lends itself to the Star Wars universe. I'm excited as a film fan, which isn't saying much in comparison so some Star Wars die-hards, but I haven't been following The Last Jedi as closely as most. The new teaser trailer is scarce on long shots but ends on an ominous note, and we're bound to get plenty more before the movie hits theaters in December.
Watch the brand new trailer for Star Wars: The Last Jedi, scope out a few screenshots, and see the first poster after the jump!
Again, not much by way of story development or blow-your-mind moments, but there's still a lot to unpack. More vigilant Star Wars fans and critics will surely dissect the trailer frame-by-frame and (as is always the case with these tentpole/multi-generational sequels) jump to outrageous conclusions, so my apologies if that's what you're looking for here. Me? I'm just hoping, only half jokingly, for a training montage that includes Rey rodeoing around on Luke's shoulders like Yoda did to him. One can hope.
Until we get a proper plot synopsis, we're all going to have to settle for wild speculation. I wasn't personally expecting Luke's last line in the trailer to drop as hard as it did, but it wouldn't surprise anyone if The Last Jedi was as dark and hopeless tonally as Empire Strikes Back was within its own trilogy.
For kicks and those who can't get enough, here are a few shots grabbed from the trailer:
Now that a trailer's been released, expect the marketing mobile to start churning its engines. Trailers, TV spots, teasers, posters, and all the in-betweens are on the way!
Star Wars: The Last Jedi was directed by Rian Johnson and stars Daisy Ridley, Mark Hamill, John Boyega, Adam Driver, Oscar Isaac, Carrie Fisher, Domhnall Gleeson, Laura Dern, Gwendoline Christie, Andy Serkis, Warwick Davis, Lupita Nyong'o, Peter Mayhew, Anthony Daniels,  and Benicio Del Toro. The movie hits theaters on December 15, 2017.