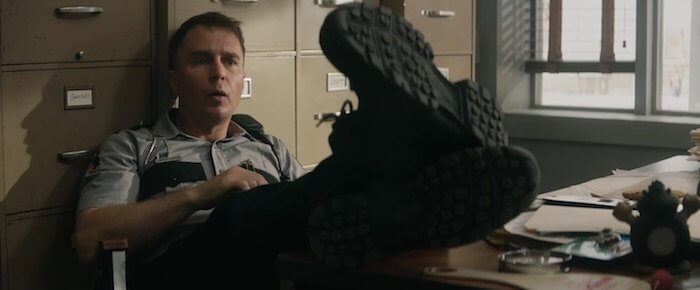 Red band trailer for Three Billboards Outside Ebbing, Missouri
Three Billboards Outside Ebbing, Missouri is a mouthful of a title, and the first trailer for the movie is an earful of absurdly enjoyable profanity. Director Martin McDonagh made his mark with fun-but-flawed previous movies In Bruges and Seven Psychopaths (the second more flawed than the first), and his latest looks like real black comedy territory. On the surface, Three Billboards Outside Ebbing, Missouri is about a mother angry over her daughter's murder, but the trailer teases an escalation that turns violent and outrageous. This is McDonagh's trademark style–start simple then get strange–and this movie should be an enjoyable romp through small-town trouble.
The first red band trailer for Three Billboards Outside Ebbing, Missouri doesn't hold back on the language, so consider yourself warned if you're in a work setting. That said, I found myself grinning by the end at just how odd and awesome this movie looks, so the trailer is worth the watch. Check it out, read a plot synopsis, and take a look at the first poster for Three Billboards Outside Ebbing, Missouri after the jump.
I personally enjoyed In Bruges a lot more than Seven Psychopaths, with McDonagh's first film feeling a bit more complete and less scattered than his second. This time around it looks like the director has a stronger skeleton of a story to bounce crazy characters around (Seven Psychopaths' never quite found its solid ground), and there's more than a few heavy hitters on the cast list. Plus, as the trailer teases, we're going to see a few of them get violent and most likely do some damage before the end credits roll. It looks like Sam Rockwell's officer character gets a little slap happy at some point, and Frances McDormand's mother character isn't going to give up without a fight, that's for sure. I'm in. McDonagh has earned my interest in anything new he creates given his knack for original work and his penchant for going strange places.
If the trailer wasn't enough plot to set the stage, here's an official plot synopsis for Three Billboards Outside Ebbing, Missouri:
After months have passed without a culprit in her daughter's murder case, Mildred Hayes (Academy Award winner Frances McDormand) makes a bold move, painting three signs leading into her town with a controversial message directed at William Willoughby (Academy Award nominee Woody Harrelson), the town's revered chief of police. When his second-in-command Officer Dixon (Sam Rockwell), an immature mother's boy with a penchant for violence, gets involved, the battle between Mildred and Ebbing's law enforcement is only exacerbated.
Three Billboards Outside Ebbing, Missouri stars Frances McDormand, Woody Harrelson, Peter Dinklage, Sam Rockwell, Caleb Landry Jones, Abbie Cornish, Kerry Condon, Lucas Hedges, John Hawkes, Kathryn Newton, Zeljko Ivanek, Samara Weaving, and Clarke Peters. The movie hits theaters on November 10, 2017.