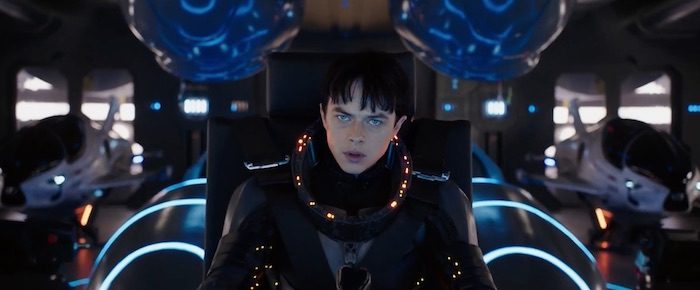 Luc Besson's Valerian movie adaptation debuts its first stellar trailer
Today's big trailer drop is Luc Besson's long-awaited adaptation of Valerian and the City of a Thousand Planets. Besson has been vocal about his love for the original graphic novel Valerian and Laureline, a love that started early in the director's life, so it's great to see him get his chance to bring the material to the big screen. Valerian and the City of a Thousand Planets may be a mouthful, but after watching the first trailer it wouldn't surprise me if more film fans became acquainted with the property soon. My curiosity is peaked, that's for sure, and Valerian looks like everything one could hope for from a Mass Effect movie. Granted, this is no Mass Effect, and comparisons to Besson's The Fifth Element are a given, so here's hoping we get a uniquely entertaining film the likes of which only our buddy Luc can deliver.
Watch the first trailer for Valerian and the City of a Thousand Planets, read the plot synopsis, and check out the poster for the movie after the jump.
There are strong Avatar/Jupiter Ascending vibes coming off of this trailer, and personally I'm all right with that. Looks like lots of multi-colored aliens and out-of-this-world sci-fi, hand-crafted with loving attention to detail by a director who somehow manages to capture camp while still crafting an enjoyable adventure. Besson gets a bad rap for his recent outings, but the director has more than a few solid entries on his resume (The Fifth Element, Leon: The Professional, La Femme Nikita). By all definitions, Valerian sounds like a passion project, and the trailer does enough to infuse a sense of "what the heck is this thing?" in moviegoers. Let's hope it hits some sweet spots come release next summer so Besson can continue making crazy sci-fi worlds like only he can.
In case you're as unfamiliar with the source material as I am, here's an official plot synopsis for Valerian and the City of a Thousand Planets:
Valerian and Laureline are special operatives for the government of the human territories charged with maintaining order throughout the universe. Valerian has more in mind than a professional relationship with his partner, blatantly chasing after her with propositions of romance. But his extensive history with women, and her traditional values, drive Laureline to continuously rebuff him.

Under directive from their Commander, Valerian and Laureline embark on a mission to the breathtaking intergalactic city of Alpha, an ever-expanding metropolis comprised of thousands of different species from all four corners of the universe. Alpha's seventeen million inhabitants have converged over time- uniting their talents, technology and resources for the betterment of all. Unfortunately, not everyone on Alpha shares in these same objectives; in fact, unseen forces are at work, placing our race in great danger.
Valerian and the City of a Thousand Planets stars Dane DeHaan, Clara Delevingne, Clive Owen, Ethan Hawke, John Goodman, Rutger Hauer, Rihanna, Herbie Hancock, and Alexandre Nguyen. The movie makes its way to theaters on July 21, 2017.