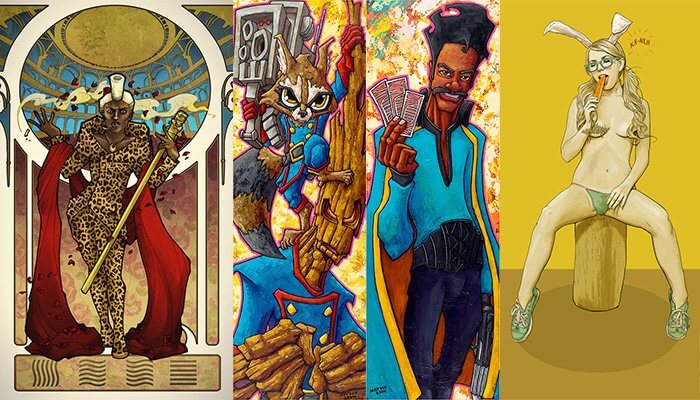 Three great Denver Comic Con artists with three distinct styles
It's easy to forget that the comic con aesthetic originally found footing atop comic books and the artists and authors who brought the books to life. Now, the conventions are a melting pot of everything pop culture, with films and television often taking center stage. Fortunately, most comic cons still dedicate floor space and panel time to artists, authors, and the in-betweens, and Denver Comic Con 2017 had them all in spades. Artist Valley and Author Alley overflowed with local and non-local sketchers, scribblers, painters, printers, and aspiring/established professionals of all ilks, and I took a step away from the panel halls to talk to a few artists that caught my eye at DCC this year.
I won't sugar coat the offerings and say there weren't handfuls of copy-and-paste pop culture prints on display, booths full of iconic characters barely given enough glossy shine or a metallic finish to sell, but hidden between the metal prints and the 16×20 staples were a few gems. I was particularly drawn to the work of Mike Maydak, the Atomic Pixies, and Keith P. Rein (whose work is a bit NSFW, so consider yourself warned).
Read some back and forth and take a look at artwork from these three artists spotlighted by Midroad Movie Review at Denver Comic Con 2017 after the jump.