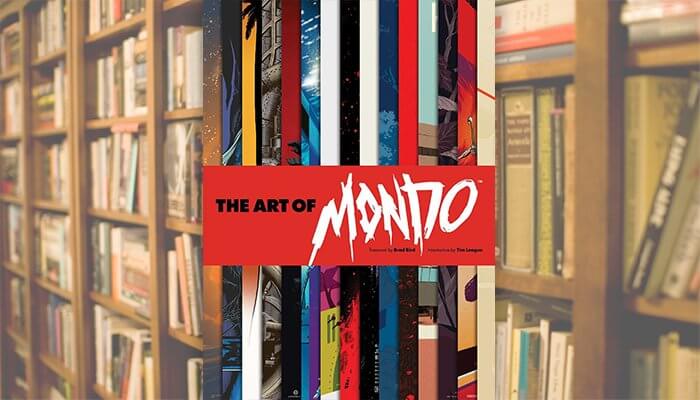 The Art of Mondo book is a must-have for film and poster fans
The Art of Mondo is a relatively new book (released in October) from publisher Insight Editions, and it's an essential coffee table staple for any film fan who also has an affinity for fantastic poster art. That's my elevator pitch, and I'm sticking to it. I've had a copy of The Art of Mondo on my table for a little while now, and to be completely honest I've delayed sharing a sneak peek inside the book for three reasons.
First, Alamo Drafthouse, the theater chain and umbrella company responsible for Mondo, saw it's CEO Tim League and others attempt to climb out of the sexual harassment cesspool before the book was released. That in itself is difficult to get around as a film fan, a movie blogger, and a supporter of the artwork Mondo consistently puts out.
Second, The Art of Mondo is a dense book that's worth taking your time with. Each poster from Mondo is usually a masterpiece in its own light, so poring over every page is a must.
Third, I just haven't been able to give Midroad Movie Review the attention it deserves these last few months, and that's disappointing. As we near the end of the 2017, I'm making plans to give the site a facelift and hopefully find a heartbeat that I can use to bring it back to life.
But the goal of this post is to take a closer look inside The Art of Mondo–to appreciate the art of monstrous men for what is it, as Claire Dederer recently suggested in the Paris Review–if the controversy surrounding Mondo/Alamo Drafthouse is a challenge to sidestep. The Art of Mondo is more than a coffee tale art book, even if it is that, and each section offers a brief introduction from a contributor that highlights the company's creation and progress through the years. There's a history of Mondo buried in here, is what I'm trying to say, and both the art and the history of the company are worth digging into.
Ready to dive in? Take a peek inside the pages of The Art of Mondo after the jump.
The Art of Mondo is just nice. Meaning, regardless of your thoughts toward the company, film in general, or pop art, there's something here to sink your teeth into and fall in love with. For fans of Mondo, film, and lovers of pop art, again, this is a must-have. One could spend a few hours taking in the scenery and appreciating color choice and composition. There's a reason these artists are tapped time and time again to create now-iconic posters for timeless classics both new and old.
The book introduces us to the content with a thoughtful foreward from director Brad Bird (The Iron Giant, The Incredibles), and I was pleased to find not one, not two, but a few gorgeous posters for The Iron Giant. I'm not sure which one I like best, but they'd all look great hanging on the wall (if you managed to snag one up when they were first released). After Bird's introduction, Mondo contributors take their turns commenting on different years and their involvement with the company, and these snippets of insight do a decent job of breaking up the posters while giving us a quick peek through the window.
If you're not in the Mondo loop and aren't quick to push the purchase button when new posters are released, it can be difficult to find a full-size poster for resale for less than outrageous prices. Fortunately, The Art of Mondo has some of the best posters buried deep within its pages (I wouldn't recommend tearing them out to frame on your wall…but I suppose you could if you were so inclined), and I really can't stress enough that this is the perfect coffee table book for movie geeks.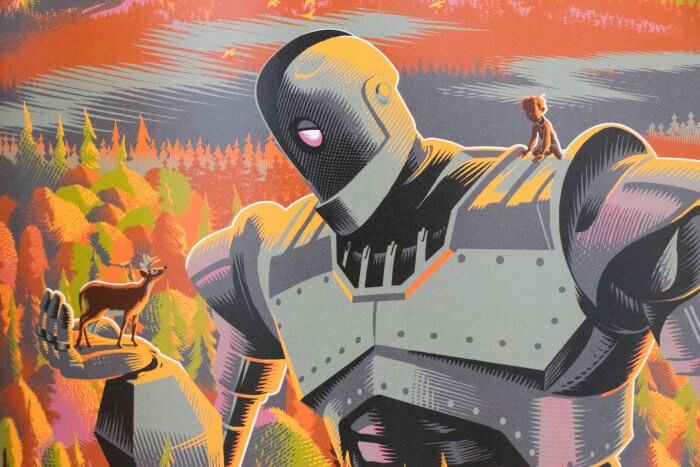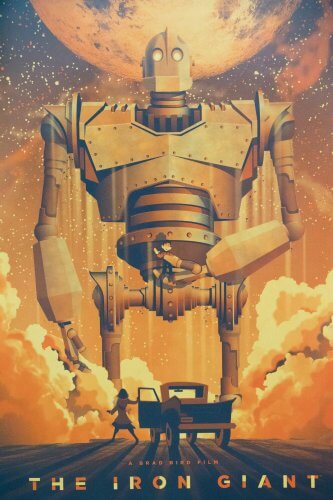 I've snapped some photos from the book, which really don't do the content justice. I think I can say I enjoy this book in only so many ways before repeating myself. Rather than continuing to shovel praise its way, how about I just share the photos and let you decide for yourself whether or not the book is for you.
Pretty great, right? Soon, you start to recognize tones and textures of artists like Tyler Stout and Olly Moss and realize why Mondo keeps bringing them back. Stout's robust line work is immediately recognizable now that I've seen handfuls of his ensemble pieces (above: The Thing, Monster Squad), and Moss's juxtaposition of shape and shadow (above: Robocop) have solidified them as Mondo staples along with others like Ken Taylor, Tom Whalen, or Martin Ansin. I still feel like I'm doing this book a disservice by not diving into paragraphs about each artist and their respective style, and I think that's why this book and its contents stand out in a sea of making-of and art-of books.
When I flip through the pages of The Art of Mondo I'm reminded of John Alvin. Titan Books put out a really great Art of John Alvin book a while back that gave insight into his process while sharing lots of fantastic images of his posters. John Alvin's work always struck me as art more than marketing (which could easily be chalked up to him hand-painting most of them), but the man had an eye for elements and angles that captured a little piece of that movie's magic and put it on full display. Sure, that's the name of the game when it comes to great marketing, but that doesn't mean we can't appreciate great art for being great art regardless of the platform or purpose. That's how I feel about some of these now-iconic-in-their-own-light Mondo artists.
There's so much more here to drool over and dig through, but that's half the journey. The Art of Mondo (say it with me) is a must-have movie poster book, plain and simple. Whether you love artists like Olly Moss or Tyler Stout or can't get enough of the movies featured in many of these posters, you owe it to yourself this holiday season to pick up a copy of the book so you can sufficiently sink your teeth into its pages.