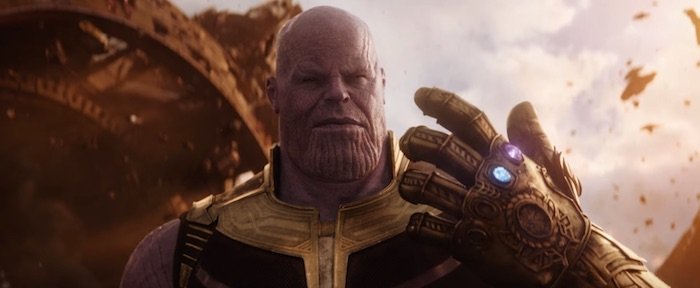 Avengers: Infinity War trailer sees Thanos collecting Infinity Stones
The first trailer for Avengers: Infinity War was teased yesterday, and it was released early this morning to as much fanfare as you'd expect for a movie and an ensemble event this long in the making. Can you believe it's almost been ten years since the first Iron Man movie came out? Guess it pays off to properly plan and execute a franchise of this magnitude (lookin' at you, DC). This movie is going the make so much money and so many fans cream their pants in delight when it finally hits theaters next May. What can one say about Avengers: Infinity War that hasn't been said? I've already seen trailer breakdowns and Kevin Smith's reaction, and countless websites are going to pore over every second of this "teaser" trailer for the rest of the week/month/year. The movie comes to us after a decade of world building, with so many meticulously placed pieces all adding up to the biggest, baddest Marvel movie to-date. You know if you're butt's going to be front and center on opening day or if this superhero hubbub just isn't your thing. So, again, what more needs to be said?
Check out the first trailer for Avengers: Infinity War after the jump in case you missed it this morning or just need to watch and re-watch it before you call it a night. You'll also find a plot synopsis and the Infinity War poster that Tom Holland "accidentally" revealed the other day.
What do you think? Excited? Indifferent? Pants already creamed? I think I'll always be impressed by what's been accomplished here, both as a mainstream comic book world adaptation and simply as a collaborative effort with so many great actors involved. That said, we've got to believe that someone important is going to bite the bullet and get killed off in this movie. It's going to happen. Who will it be? I haven't read the comics, so I can't say with any certainty, but my bet's on either Captain America or Iron Man.
Most of these actors/actresses have already headlined their own movies (not necessarily Marvel), so we're talking A-list caliber across the board. Scarlett Johansson even teased that at one point in the movie there will be 30+ Marvel characters in a scene. And you thought the Civil War airport fight was an ensemble! Here's hoping brothers/directors Anthony and Joe Russo continue their streak of knocking their contributions to the MCU out of the park.
Need more? Here's an official plot synopsis for Avengers: Infinity War to sink your teeth into:
As the Avengers and their allies have continued to protect the world from threats too large for any one hero to handle, a new danger has emerged from the cosmic shadows: Thanos. A despot of intergalactic infamy, his goal is to collect all six Infinity Stones, artifacts of unimaginable power, and use them to inflict his twisted will on all of reality. Everything the Avengers have fought for has led up to this moment – the fate of Earth and existence itself has never been more uncertain.
And I thought the cast for Isle of Dogs was exceptional. Avengers: Infinity War stars Robert Downey Jr., Josh Brolin, Mark Ruffalo, Tom Hiddleston, Chris Evans, Chris Hemsworth, Scarlett Johansson, Elizabeth Olsen, Sebastian Stan, Benedict Cumberbatch, Paul Bettany, Paul Rudd, Jeremy Renner, Anthony Mackie, Chris Pratt, Chadwick Boseman, Cobie Smulders, Benedict Wong, Zoe Saldana, Karen Gillan, Vin Diesel, Dave Bautista, Pom Klementieff, Don Cheadle, Tom Holland, Bradley Cooper and maybe a dozen more familiar faces and rumored appearances. The movie hits theaters on May 4, 2018.
Here's the Avengers: Infinity War poster that's making the rounds. I still can't tell if it's a screengrab someone cleaned up a bit or if this is the officially released poster (anyone else think this thing is blurred?), but here it is.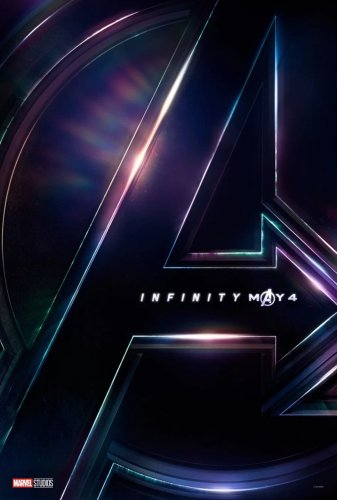 I kind of prefer this one that dropped out of Comic Con a while back: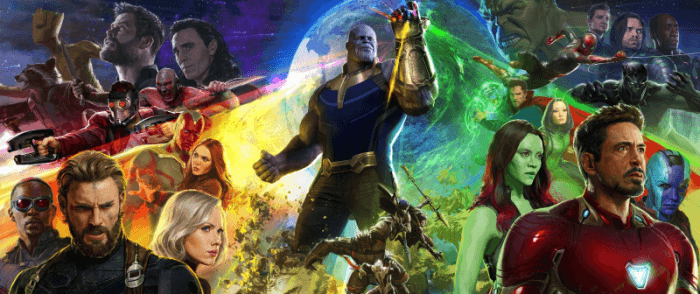 Or even this fan-made poster created by Deviant Artist themadbutcher: