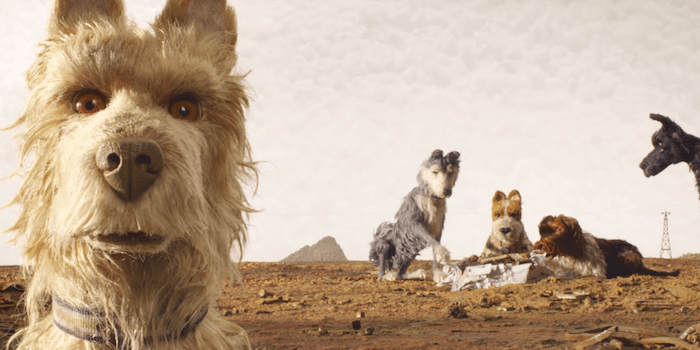 First trailer for Wes Anderson's Isle of Dogs
Isle of Dogs debuted its first trailer just over two months ago, so my apologies for only now sharing it. The site's due for a redesign, and I've been falling behind, but it's good to be back. The new stop-motion full-length feature from Wes Anderson comes eight years after Fantastic Mr. Fox, the director's first foray into stop-motion, and it's great to see Anderson dipping his toes into the medium again. This time around, we're taken to Japan twenty years in the future, a time when overcrowding of the canine population leads to an outbreak of dog flu, and then we crash land with the film's main character onto…wait for it…an isle of exiled dogs. The premise is fun, the voice acting is top-notch (Anderson has a rolodex full of familiar faces/voices to fill out his cast), and the fine edge and composition that have become a Wes Anderson staple all make Isle of Dogs worth the watch. I'm loving everything I see here.
Haven't heard of Isle of Dogs or need a refresher since it's been so long since the trailer dropped? Watch the trailer, read a short plot synopsis, and check out two posters for Isle of Dogs after the jump.
Isle of Dogs looks beautiful and hints at a heartfelt underbelly in need of scratching. Anderson has always been one to finely tune every shot and sequence, so it's no surprise that he's drawn to stop-motion where he can literally shape and style every piece of hair to his liking. Saying that, I'm actually kind of surprised the director hasn't brought a fully animated feature to the big screen (turns out he animated a version of The Grand Budapest Hotel that he's got hidden away somewhere), and I'm looking forward to that hopefully inevitably happening. Until then, stop-motion Wes Anderson is the next best thing, and animation in general seems to be a medium he enjoys tinkering with. In an interview with Nashville Scene for Fantastic Mr. Fox, Anderson said,
With live action, you have an immediacy. With an animated film, you can't predict accidents and surprises. With a movie like this, when it's actually being animated, as carefully as you prepare the shot and all the details, frame by frame, every animator comes up with a different interpretation. Their personalities, interests and strengths come through. You never quite know what it's going to be. The feeling of being in control but nervous and excited about the unknown is the same.
Here's a fairly barebones plot synopsis for Isle of Dogs that's floating around right now:
In the future, an outbreak of canine flu leads the mayor of a Japanese city to banish all dogs to an island that's a garbage dump. The outcasts must soon embark on an epic journey when a 12-year-old boy arrives on the island to find his beloved pet.
I don't know that I've ever seen this many recognizable actors and actresses crammed into every crack of a film before. You're bound to recognize the voices of Scarlett Johansson, Jeff Goldblum, Bryan Cranston, Greta Gerwig, Edward Norton, Tilda Swinton, Bill Murray, Frances McDormand, Liev Schreiber, Kara Hayward, Ken Watanabe, Fisher Stevens, Harvey Keitel, Courtney B. Vance, F. Murray Abraham, Yoko Ono, Bob Balaban, and Frank Wood if you listen for them. Isle of Dogs is scheduled to hit theaters on March 23, 2018.