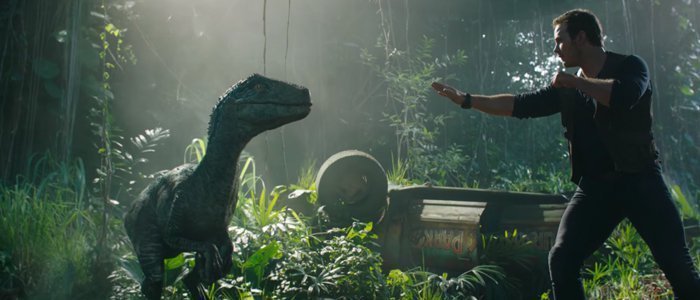 First Jurassic World: Fallen Kingdom finally debuts
Jurassic World: Fallen Kingdom debuted its first trailer last month after a strange viral video shared that the trailer premiere faced a little dino trouble. The video is odd in that it featured YouTube visual effects personality Zach King as much as it did the film's stars, and it further proves that mainstream, big budget media is continuing to cross over with YouTube personalities and the like. I'm pretty sure King actually cut together the new trailer, and his involvement received mixed reactions. All that aside, the first trailer for Jurassic World: Fallen Kingdom does it's job of dropping movie bits into semi-coherent order to give viewers a vague picture of the final product. It neither wows nor really disappoints, and fans of Jurassic Park in it's newest form are either already onboard or just not that interested. I'm riding the electrified fence around the not that interested camp.
Check out the trailer for Jurassic World: Fallen Kingdom.
Again, there's nothing here to really inspire or ensure butts in seats, but I suppose that comes with the territory. As Jurassic World pointed out, viewers just aren't as excited by the prospect of dinosaurs as they once were, and the sequel to the soft reboot that was Jurassic World looks like filler at best. Like The Lost World, our protagonists are brought back to a dangerous island for convoluted, uninspired reasons, and running, hiding, and dying ensues. Rinse, repeat, and add a little color is today's blockbuster sequel mantra. It'd be a safe bet to guess studio's are banking as much on the star power of Chris Pratt as they are the dinosaur/Jurassic Park factor, and Fallen Kingdom is primed for the middle-of-summer crowd, so chances are this one will make a decent amount of money at the box office. Enough for another sequel? Only time will tell.
Here's an official plot synopsis for Jurassic World: Fallen Kingdom pulled from the movie's website:
It's been four years since theme park and luxury resort Jurassic World was destroyed by dinosaurs out of containment. Isla Nublar now sits abandoned by humans while the surviving dinosaurs fend for themselves in the jungles.
 
When the island's dormant volcano begins roaring to life, Owen and Claire mount a campaign to rescue the remaining dinosaurs from this extinction-level event. Owen is driven to find Blue, his lead raptor who's still missing in the wild, and Claire has grown a respect for these creatures she now makes her mission. Arriving on the unstable island as lava begins raining down, their expedition uncovers a conspiracy that could return our entire planet to a perilous order not seen since prehistoric times.
Jurassic World was directed by J.A. Bayona (The Impossible, A Monster Calls) and stars Chris Pratt, Bryce Dallas Howard, Jeff Goldblum, BD Wong, Ted Levine, Toby Jones, James Cromwell, Justice Smith, Rafe Spall, Geraldine Chaplin, and Daniella Pineda. The movie hits theaters on June 22, 2018.