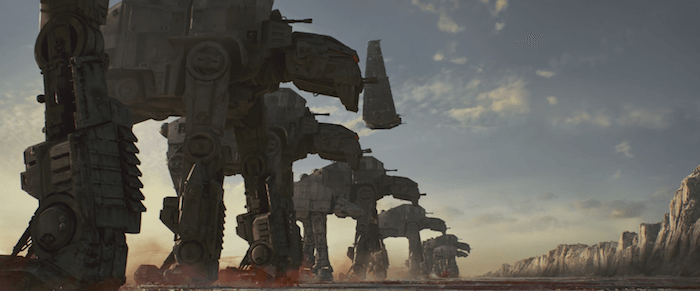 New Star Wars: The Last Jedi trailer questions Rey and Kylo Ren's loyalties
A brand new full-length Star Wars: The Last Jedi trailer just debuted, and it's safe to say the long-awaited eighth installment in the originally planned nine-film franchise is high on film fans' must-watch lists this fall. Comparisons to Empire Strikes Back aside given this one's in the middle of the three-film current arc, there's definitely a darker tone and an ominous ending to to new trailer. Loyalties are in question, the death of an iconic character is essentially dangled in our faces, and on the surface it appears Rey and Kylo Ren are joining forces. The Last Jedi's second full-length trailer is bound to be dissected and put under the microscope even more than the newest Justice League trailer, and there's plenty of eye-popping, theory-sparking new footage to sink your teeth into. Star Wars Episode VIII: The Last Jedi-Rey's Emotional Rollercoaster; Damn Those AT-ATs hits theaters just in time for Christmas, so you've got plenty of time to watch and re-watch the new trailer before then.
Check out the brand new Star Wars: The Last Jedi trailer after the jump.
There's still no official plot synopsis attached the The Last Jedi, but we can infer enough based on what we've seen and where this particular film sits (again) within the current lineup. Rey's on edge. Finn is back on his feet. Han's still dead. Chewie has a new furry buddy. Poe is spouting dramatic lines. Kylo is also on edge. Leia is looking down the barrel of a Tie Fighter cannon. And we get to see Snoke in the flesh. For a trailer, that's a lot to digest. For a movie, that's plenty to power through a sequel, especially at the hands of director Rian Johnson. I wasn't a huge fan of The Force Awakens, but Johnson's involvement in the follow-up is a big draw. His previous films Brick, The Brothers Bloom, and Looper are all worth watching more than a few times at worst and genre standouts at best. The Last Jedi, regardless of the level of its success (and let's be honest, this one's going to make bank), is a big ol' springboard for the director's career.
Before I wrap up this post, how cool was that Finn/Phasma one-on-one sequence? Looks like he's using the same kind of lightsaber defense weapon that was used against him in The Force Awakens. Also, great to see Phasma finally get to do…something! Here's hoping the character rises to Boba Fett levels after the hype and let down of the first film.
Star Wars: The Last Jedi stars Daisy Ridley, Mark Hamill, John Boyega, Adam Driver, Oscar Isaac, Carrie Fisher, Domhnall Gleeson, Laura Dern, Gwendoline Christie, Andy Serkis, Warwick Davis, Lupita Nyong'o, Peter Mayhew, Anthony Daniels,  and Benicio Del Toro. The movie flies into theaters on December 15, 2017.
Also, here's a brand new official Star Wars: The Last Jedi poster that debuted before the new trailer as well as a handful of character posters that popped up a while back: