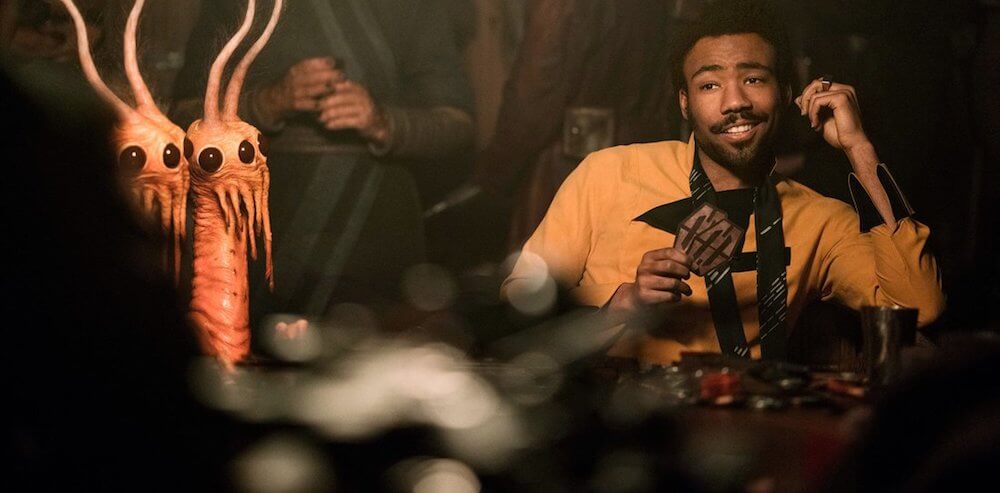 Ron Howard's Solo: A Star Wars Story gets its first trailer
The first trailer for Solo: A Star Wars Story finally debuted this week after teaser snippets during Sunday's Super Bowl game. The trailer does just what it needs to to whet fan appetites and remind us all that this movie is actually happening. I think at this point I'm more intrigued by these offshoot Star Wars movies than I am the "main" trilogy that's unfolding right now, and I don't think I'm alone given the mixed reviews for The Last Jedi.
Solo: A Star Wars Story pretty much has its story laid out already–meet his old friends, get his ship, prove he's a devil-may-care smuggler–so the appeal here is to see what Ron Howard does behind the camera and with the story. If you remember, Howard was called in to practically reshoot the entire movie once directors/writers Phil Lord and Chris Miller left the project. At the very least, the movie will be watchable, because that's just what Ron Howard does.
Check out the trailer for Solo: A Star Wars Story, read the plot synopsis for the movie, and take a look at a few character posters.
What do you think? Are you excited to jump back in time in a galaxy far, far away to see how Solo met Lando? How about how Solo met Chewie? Or how Solo won the Millenium Falcon? Or how Solo made the Kessel Run in 12 parsecs? Or…or…or? There's a lot of fun lore and backstory that we're sure to see firsthand now. Personally, mystery surrounding a character's backstory is always part of the appeal, so I'm not sure how I feel about all these prequel sequels dusting away the cobwebs to show us how everything actually happened.
Also, as much as we'd all prefer a young Harrison Ford back in Solo's boots, we had to know that wasn't ever going to happen. I'm not sold on Alden Ehrenreich (Hail Caesar!, Beautiful Creatures) as the iconic character, but time will tell if his casting was right for the part. Same goes for Donald Glover as Lando Calrissian. I'm hoping I can see past Glover's…Glover-ness…and really enjoy a young, in-his-prime Lando. Again, time will tell. 
Not enough to get your fix? Entertainment Weekly has a few new images from the movie for you to sink your teeth into.
Here's the official plot synopsis for Solo: A Star Wars Story courtesy of starwars.com:
Board the Millennium Falcon and journey to a galaxy far, far away in Solo: A Star Wars Story, an all-new adventure with the most beloved scoundrel in the galaxy. Through a series of daring escapades deep within a dark and dangerous criminal underworld, Han Solo meets his mighty future copilot Chewbacca and encounters the notorious gambler Lando Calrissian, in a journey that will set the course of one of the Star Wars saga's most unlikely heroes.
Solo: A Star Wars Story stars Alden Ehrenreich, Donald Glover, Emilia Clarke, Paul Bettany, Woody Harrelson, and Thandie Newton. The movie flies into theaters on May 25, 2018.